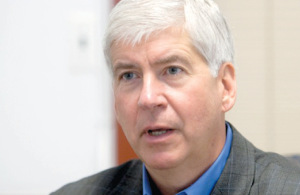 Despite our disagreements with some decisions Michigan Governor Rick Snyder has made over the past four years, we believe voters in next Tuesday's election should vote to continue his tenure as governor of our state.
Arriving at this decision has not been easy for the Michigan Chronicle. Mark Schauer is an attractive candidate in many respects, and we agree with him that some of the priorities of the Governor and his party were wrong and, at times, patently undemocratic. Like many Michiganders, it is hard for us to forget the rank power plays of our legislature's last lame duck session, later signed into law by Governor Snyder. No doubt that episode disappointed many and tarnished his appeal.
Yet, the progress in Michigan these past four years has been undeniable. And Governor Snyder has been no mere bystander; he has led. For example, the Governor's Healthy Michigan Initiative has been a game changer for so many Michiganders and for our hospitals and health providers. Against strong opposition from some in his party, Governor Snyder pushed to expand Medicaid eligibility under the Affordable Care Act. So far, more than 400,000 people in the state have enrolled.
We also give Governor Snyder credit for vetoing Republican-sponsored H.B. 5061, S.B. 803 and S.B. 7544 — legislation that would have added "proof of citizenship," "photo I.D." and "voter registration training" requirements to Michigan voting laws.
We believe this kind of legislation is a barely veiled effort to depress voting by minority citizens. Yet, Republican governors in many other states are signing those kinds of bills. Not Governor Snyder.
Finally, there is Governor Snyder's relationship with the City of Detroit. He has been as accessible and responsive to the city as any recent governor in our memory. He has also continuously reminded the rest of the state about the importance of our great city.
The Detroit bankruptcy is perhaps Governor Snyder's most defining legacy as governor. He boldly led the process of taking the city into the historic bankruptcy — preventing the financial collapse of Michigan's largest city — and he is guiding the city quickly through the bankruptcy process. We do not know of a governor before him who would have had the fortitude to do so. In a way, once he appointed an emergency manager for the city, he, in effect, staked his entire political career on Detroit making it through its financial crisis. That appears now to have been a winning bet, as a significant portion of the city's almost $19 billion debt is on the cusp of being wiped away.
Also, the "Grand Bargain," a major part of the Detroit bankruptcy deal, would not have been possible without the leadership of Governor Snyder. He pulled together leaders from across the state, and across various sectors and industries, to support a deal that works in a just manner for everyone affected — and gives the city its first real opportunity in a generation to prosper.
We admire that Governor Snyder does not shy away from the tough decisions. During his first term in office, he has shown that. On several important occasions, he has been willing, against political considerations, to "take the bull by the horns" to make the right call. We believe that Michigan and Detroit would benefit from four more years of that kind of leadership.