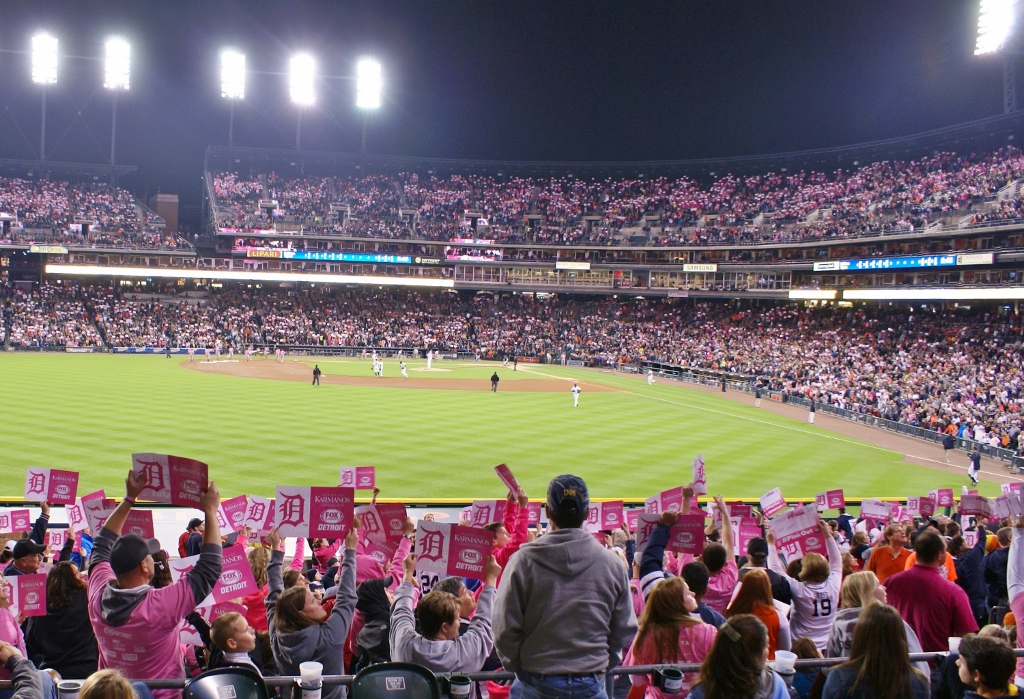 When it comes to raising breast health awareness that benefits our community, the Detroit Tigers hit it out of the ballpark. That's exactly what happened Sept. 12 when the Detroit Tigers and the Barbara Ann Karmanos Cancer Institute teamed up for the third annual Pink Out the Park at Comerica Park. In addition to raising awareness of breast health, over $20,000 will benefit Karmanos Cancer Institute's breast cancer research.
"We're extremely grateful to partner with the Detroit Tigers for Pink Out the Park," said Nick Karmanos, executive vice president, Institutional Relations, Karmanos Cancer Institute. "Because of their generosity, and the enthusiastic fans, together, we're increasing the awareness of breast health and raising funds to support breast cancer research so that, one day, no family will have to lose a loved one to this disease."
Nearly 40,000 fans filled Comerica Park donned in Pink Out the Park t-shirts as the Detroit Tigers played the Cleveland Indians, winning 7 to 2. Attendees had the opportunity to write the name of a loved one on pink placards supplied by FOX Sports Detroit, supporting someone going through the breast cancer fight or in honor of someone who lost their battle. The enthusiasm for our hometown Detroit Tigers was electric and the support expressed by fans for all those touched by breast cancer was inspiring.
Funds were raised through the sale of special ticket packages; special pink items, such as this year's Pink Out dog tags; as well as official autographed items signed by Detroit Tiger players.
Delta Air Lines, the Official Airline of the Detroit Tigers, served as host sponsor for the event, providing pink polka dot bags to the first 10,000 ladies attending the game. This year's media sponsors who promoted the event through interviews, public service announcements and social media included FOX Sports Detroit and CBS Radio Detroit: WWJ Newsradio 950, 97.1 The Ticket, 98.7 AMP Radio, 99.5 WYCD, 104.3 WOMC and CBS Sports Radio 1270 WXYT.
Representatives from Delta Airlines, FOX Sports Detroit and CBS Radio were joined by several Karmanos representatives for the pre-game ceremony, including Doctors Lawrence Flaherty and Sharon Helmer; Nick Karmanos; and breast cancer survivors and Karmanos patients Barbara Shooshanian from Dearborn; and Shirley Roberson from Detroit. More than 400 other breast cancer survivors, both women and men, filled the field during the pre-game ceremony to help raise awareness of breast health and to give hope to others impacted by breast cancer. Special breast health kiosks were also available throughout Comerica Park, and proceeds from two 50/50 raffles at Comerica Park also helped support cancer research at Karmanos.
"Chances are breast cancer will impact all of us," said Karmanos. "My mom courageously battled a very aggressive breast cancer until it eventually took her life in January 1989. She was just 46 years old. The advancements made in breast cancer research since her passing have significantly improved patient survival.
"I'm thankful for the Detroit Tigers who remain our champions, our incredible sponsors and our generous community. I couldn't be more proud to work with my colleagues at the Karmanos Cancer Institute who are committed to helping cancer patients and their families in their most critical time of need."
The community is invited to participate in several other activities supporting Karmanos during National Breast Cancer Awareness Month as well as other year-round events. For a complete list of activities visit Friend Raising Funds Events.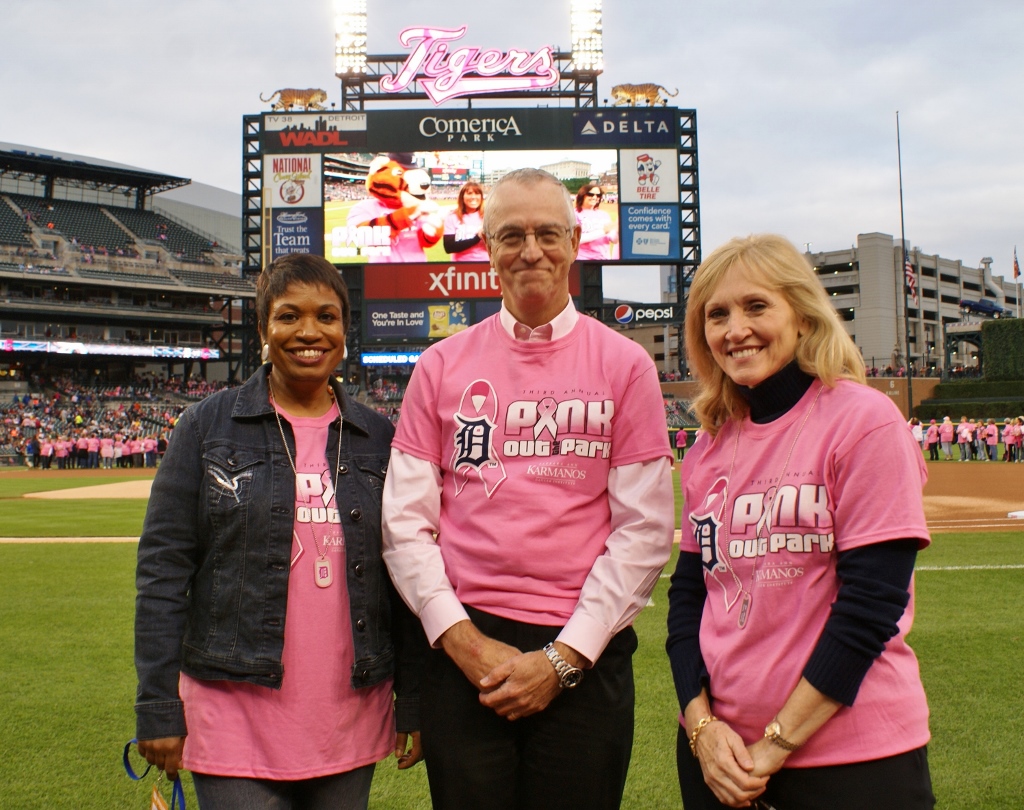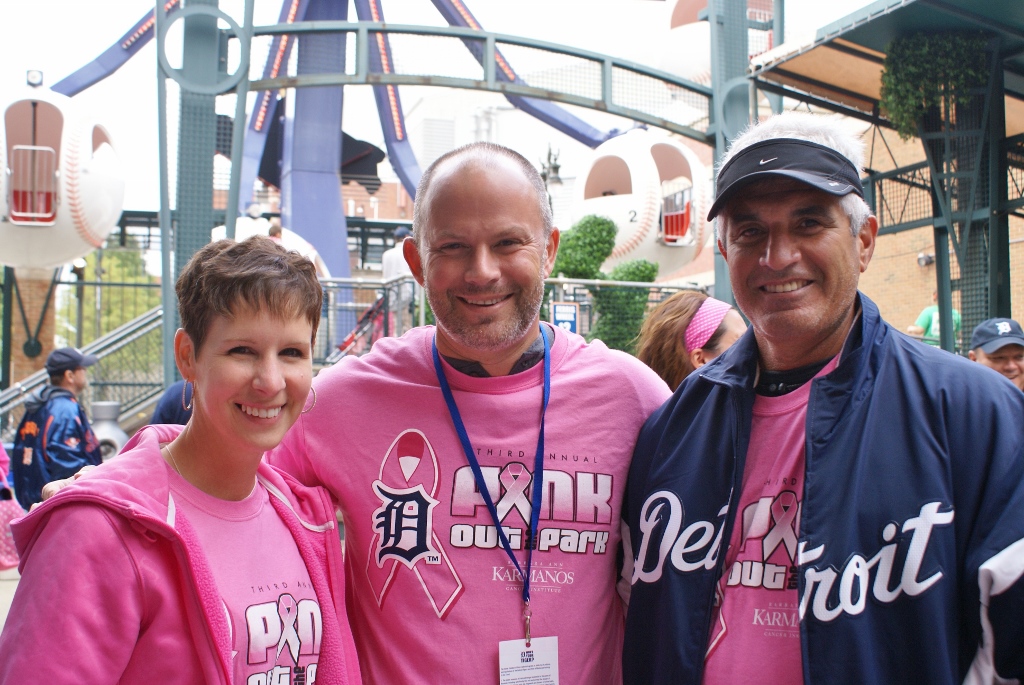 For more information of cancer services visit www.karmanos.org or call 1-800-KARMANOS (1-800-527-6266.)