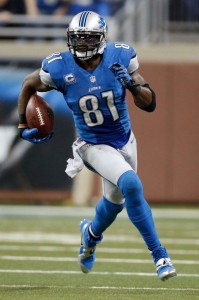 Lions All-Pro receiver Calvin Johnson may miss the next two games and could possibly be out of action until Week 10 of the season because of a lingering ankle injury. Johnson suffered the injury in the second half of the game against the Green Bay Packers and it has been affecting him ever since. He aggravated the injury two weeks ago against the Buffalo Bills after recording only one catch for seven yards in the contest. He did not play last week against the Minnesota Vikings and because of his absence, the Lions offense was very one dimensional, while quarterback Matthew Stafford had trouble finding open receivers because without MegaTron in the lineup, all of the receivers were covered. All of these factors contribute to my assumption that the Lions can win more games with Calvin Johnson in the lineup than having Matthew Stafford in the lineup.
Stafford can be defined as just being an average quarterback who has a big arm, but lacks the quarterback vision to be as accurate as elite quarterbacks like Peyton Manning, Tom Brady, and my personal favorite Drew Brees. Now that the injuries are starting to pile up for Johnson and he turns 30 next year, the question remains about how much longer this window of opportunity stays open for this Lions team that is supposed to have this dynamic offense, but have underachieved this season in putting points on the board. Clearly without Johnson in the game, there isn't anybody to throw to besides Golden Tate, but he can't carry a team by himself. Then you have first round pick Eric Ebron who despite the Lions hyping him up as the next Jimmy Graham, he's been such a non-factor this season that people are starting to wonder if he was worth the tenth overall selection this past NFL Draft.
So with the Lions playing teams such as the New Orleans Saints, New England Patriots and the Packers again, how long before the lack of production on offense finally catches up to us. Going into this season, I thought the Lions could pull off an 11-5 season with Golden Tate coming on and with a new coach in Jim Caldwell. But despite the 4-2 record and the No. 1 defense dominating, if the Lions can't score points in an offensive challenge league, then I expect them to finish the season at 8-8 and once again without a playoff berth.