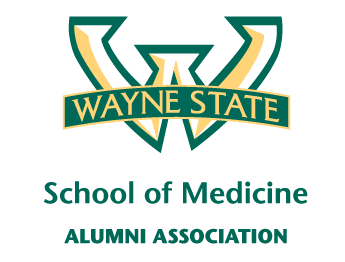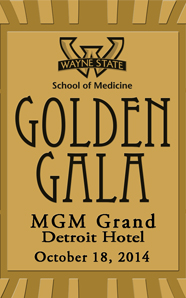 Event honors health care and public policy leaders, benefits student scholarships
The Wayne State University School of Medicine will host its fourth annual Golden Gala at 5:30 p.m. Oct. 18 at the MGM Grand Detroit Hotel. The event honors individuals who have contributed to the school's legacy and celebrates the generosity of donors whose support has helped WSU maintain its distinction as one of the most respected medical schools in the nation. Monies raised support medical school scholarships.
Cynthia Canty, a local Emmy-winning television reporter and host of Michigan Radio's "Stateside with Cynthia Canty," will serve as the emcee of the black-tie event, themed "The Roaring Twenties." The gala will feature a reception with dinner, awards presentation, silent auction, raffle, dancing and music by local big band Rhythm Society Orchestra.
Tickets are $250 for one or $225 each for two or more. To RSVP, visit www.gala.med.wayne.edu.
The School of Medicine will recognize five leaders in the fields of medicine and public policy.
About the Honorees
The Distinguished Community Service Award is given to a community leader who has demonstrated a dedication to directly impacting and improving the community served by Wayne State University. The 2014 honoree is U.S. Sen. Debbie Stabenow, who has made access to quality, affordable health care a top priority. She ensured that the landmark Affordable Care Act protected comprehensive health coverage for women, including maternity care, and has been recognized for her efforts to make prescription drugs more affordable. She was instrumental in getting hospitals and providers to adopt electronic medical records to reduce medical errors and save money in the health care system, and is a leading advocate of community health centers, which provide affordable, high-quality care in more than 180 communities in Michigan.
The Distinguished Service Award is given to physicians, researchers, non-medically related individuals or alumni who have made major contributions to humanitarian causes or community participation. The 2014 honorees are Grand Haven resident James Haveman, A.C.W.S., director of the Michigan Department of Community Health, and former St. Clair Shores resident Beth Ann Brooks, M.D, a retired clinical professor and associate chair for Education in the Wayne State University School of Medicine's Department of Psychiatry and Behavioral Neurosciences.
Haveman has had a strong relationship with the School of Medicine for more than 20 years, collaborating in the early 1990s with the WSU Department of Psychiatry and Behavioral Neurosciences to ensure patients in Detroit received the best mental health care possible. He also worked to provide annual funding to support academic and community-based programs.
His co-honoree, Dr. Brooks, was a resident mentor and director of the department's general psychiatry program, and child and adolescent psychiatry residency programs. She has been named to the peer-reviewed Best Doctors in America 10 times. She is nationally recognized for her contributions to resident education, and now lives in Nebraska.
The Ambassador Award honors individuals and corporations who, through acts and deeds, epitomize the spirit of Wayne State University and the School of Medicine. The 2014 honoree is Ann Arbor resident John Carethers, M.D., a 1989 graduate of the Wayne State University School of Medicine. The John G. Searle Professor of Gastroenterology and Chair of the Department of Internal Medicine at the University of Michigan Medical School, he is 10th of 12 children and grew up on Detroit's northwest side. After graduating from the School of Medicine with honors, he completed his residency at Massachusetts General Hospital in 1992. Dr. Carethers was elected to the National Academy of Sciences' Institute of Medicine in 2012.
The Trailblazer Award recognizes an alumnus or faculty member who, through perseverance and dedication, has forged paths through previously unexplored territory to become a pioneer in their field of medicine and medical research. The 2014 honoree is Dearborn resident Lawrence Crane, M.D. '66, F.A.C.P., F.I.D.S.A., a professor of medicine in the WSU Department of Internal Medicine's Division of Infectious Diseases. In the early 1980s, Dr. Crane changed the lives of thousands living with HIV when he decided to provide medical care to those with Gay-Related Immune Deficiency, later renamed AIDS. He has been a vocal advocate for patients, championing access to HIV care regardless of insurance status, race or sexual identity. He was instrumental in getting local patients the first antiretroviral AIDS drug, zidovudine, or AZT, which was first discovered at the School of Medicine. Dr. Crane directs Wayne State's Adult HIV/AIDS Programs and Infectious Diseases Outpatient Clinic, the largest of its kind in Michigan.

About Post Author