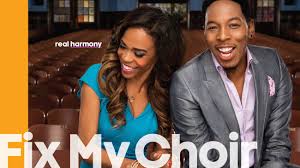 As uplifting as the sounds of praise can be, sometimes the choirs who sing them could use some much needed mentoring when out of control egos, arguments, and lack of focus rear their ugly heads. Fortunately, help is on the way. Gospel superstar Dietrick Haddon and Award winning recording artist Michelle Williams of Destiny's Child will rescue choirs across the nation in their new music series 'Fix My Choir', premiering Wednesday, Nov. 5 at 10 p.m ET/PT on Oxygen.
One of the featured performances will be that of Joshua Kagler and Harmonistic Praise crusade of New Orleans. Joshua Kagler brings souls closer to Christ through music. He invested everything he owned to lead the choir to victory with the gospel competition 'How Sweet the Sound'. However, soon after the choir became less dedicated and trouble ensued within the group. Will Joshua have to call it quits or will the Harmonistic Praise Crusade put the pieces together again?
Then there is the Xtreme Purpose Choir out of Pasadena, CA. Everyone in the choir wants to be the best and will do whatever it takes to get there, however members tend to party hard and struggle with their performances. Not to mention, the backstabbing, jealously and total lack of respect. Can they put their party shoes on the shelf along with their differences?
Each struggling choir will receive a surprise visit from Williams and Haddon to help them find perfect harmony- not only in their music, but with each other. As mentors they will take a week with each choir to whip them back into shape and tackle core issues regarding leadership, interpersonal conflicts and artistic direction. These choirs will go from ordinary to extraordinary with a new-found confidence." The choir represents family, unity, and teamwork," says star and producer Deitrick Haddon. That seems to be the perfect recipe to mend these broken choirs.


About Post Author