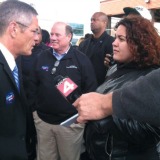 Detroit Driven, a 501 c(3) non-profit initiative created with the support of Governor Rick Snyder and Mayor Mike Duggan to highlight Detroit's revival, was formally launched last week downtown at the DIME hotel. The organization's leadership and Community Advisory Board welcomed an estimated 100 guests, including Governor Rick Snyder, representatives of Opportunity Detroit, Rock Ventures, private donors and community leaders.
"The city of Detroit is in the midst of a great American comeback, and it is encouraging to know that Detroit Driven will ensure the story gets told," said Michigan Governor Rick Snyder. "The people of Detroit have been working extremely hard to revitalize their home city, it is crucial that their commitment is recognized."
Detroit Driven aims to accelerate and heighten awareness of the city's renewal efforts by highlighting community commitment and leadership through the launch of an aggressive public relations and advertising campaign targeted to key audiences at city, state, national and international levels. Its mission is to promote civic pride in the City of Detroit, and tell the stories of the people who are reviving the city
"Organizations like Detroit Driven are helping tell the stories of the people working to turn Detroit around and why Detroit matters to Michigan and the nation," said Michigan Governor Rick Snyder. "I applaud their work and those who have stepped forward to help us all revive this great American city."
The event also highlighted efforts to develop new branding for Detroit and previewed the Detroit Driven promotional video narrated by Kid Rock, now viewable at www.detroitdriven.org.
Over the next several months, Detroit Driven will build out its web site, integrate with other Detroit-focused information sources and begin telling the stories of the entrepreneurs and visionaries working to revitalize the city. Their website currently showcases four initial stories and there will be more to follow.
About Post Author