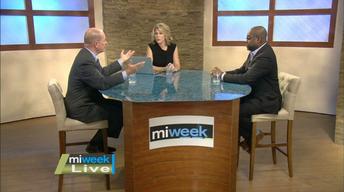 The Secret Service has come under a torrential downpour of deserved criticism for major breaches in security of the highest order the last couple of weeks, and this latest report intensifies the scrutiny of the federal agency.
A Secret Service team violated basic protocol when they allowed an armed security contractor, who was later found to have three prior convictions for violent offenses, was allowed on an elevator with President Obama during a Sept. 16 visit to Atlanta, the Washington Post reports.
Obama was visiting the Centers for Disease Control and Prevention in Atlanta to discuss the U.S. response to the Ebola crisis.
The episode came to light because the imprudent contractor used his cellphone to record video of Obama and refused to comply when Secret Service agents told him to quit. That prompted an investigation by agents of the armed contractor, both in questioning and in a background check, which revealed the armed man had previous convictions for assault and battery.
"You have a convicted felon within arm's reach of the president and they never did a background check," Rep. Jason Chaffetz, R-Utah, told the Post. "Words aren't strong enough for the outrage I feel for the safety of the president and his family."
Today, the contractor offered a mea culpa and was reportedly fired on the spot by a supervisor for a private security firm and agreed to turn over his gun. The agents claim they were unaware the contractor was armed.
On Tuesday, Secret Service boss Julia Pierson admitted failures in her agency's critical mission of protecting the president but repeatedly sidestepped key questions about how a knife-carrying intruder penetrated ring after ring of security before finally being tackled deep inside the White House.
Despite the quick succession of security failures of the president's protection team, Pierson had the audacity to blurt out: "The president is safe today."
Democratic and Republican lawmakers subjected Pierson to a roundhouse tongue-lashing and were unmoved by her vow that "I'll make sure that it does not happen again" or by the agency's own investigation.
"I wish to God you protected the White House like you protected your reputation here today," Rep. Stephen Lynch, D-Mass., told Pierson at a public hearing that was followed by a classified, closed-door briefing. Chaffetz, who has led Congress' investigation, said afterward: "The more I learn, the more it scares me."
Pierson was ordered to appear before the House Oversight and Government Reform Committee, where Pierson disclosed that shortly before the intruder jumped the fence at least two of her uniformed officers recognized him from an earlier troubling encounter but failed to approach him or report his presence to superiors.
About Post Author