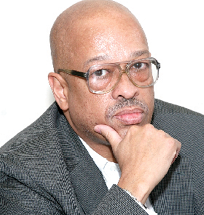 There are those — this writer included — who are essentially opposed to introducing "Black versions" of people or things that have always been White. Megastar actor and two-time Oscar winner Denzel Washington apparently disagrees.
Idris Elba's name had been tossed around as a possible candidate for portraying "the first Black James Bond," but he made it clear that he is not interested. Evidently, not so with Washington.
In a recent discussion, Washington expressed interest, but since he will be 60 in December, he joked that "they better hurry up!"
In the meantime, he has his eye on a remake of "Uptown Saturday Night" with Will Smith co-starring. The 1974 original starred Bill Cosby, Sidney Poitier and Harry Belafonte.
WHICH brings to mind Hollywood's ongoing double standard regarding gender. A-list older actors such as Denzel Washington, Samuel L. Jackson and Morgan Freeman work all the time, but it's a tougher road for the ladies, no matter how talented and accomplished.
The iconic Diahann Carroll ("Claudine," "Eve's Bayou," "Dynasty," etc.) says she would like to work much more often but doesn't get asked. Is that what the future holds for the incredible Angela Bassett?
Here is a very interesting quote from the unique and often beautifully quirky Annie Lennox, a true artist:
"We live in a celebrity-fixated culture and we live through them. But what are we following? My name sometimes gets put in the celebrity category and it freaks me out. I've never seen myself that way and I find it diminishing. What I am is a musician and a communicator. It isn't about the tsunami of useless stuff."
LAURENCE FISHBURNE says one of the worst periods of his life came when his daughter, Montana, began making porn movies. Porn has its place, for those interested, but it's not exactly the path a father envisions for his "little girl."
And to make matters worse, she used her real name, something porn actors and actresses virtually never do. So he was disappointed and embarrassed.
Montana is out of porn now and instead is working as a stripper! She says if a person stays in porn they can end up having "a sucky life." (That was a bad choice of words!)
THE OTHER night I was watching "Cadillac Records," the movie in which Beyoncé Knowles portrays Etta James. And I also recently watched "Lady Sings the Blues" with Diana Ross as Billie Holiday.
I love both of these ladies but the characterizations were almost ruined for the same reason — Beyoncé sounded absolutely nothing like Etta James. It was just Beyoncé sounding like herself singing Etta James songs. And there wasn't a trace of Billie Holiday in Diana Ross' singing. It was Diana Ross singing Billie Holliday songs.
Usher says he hopes that if he gets married again that his ex-wife, Tameka, will discontinue using his last name (Raymond).
Halle Berry has signed a production deal with CBS by way of her recently formed company, 606 Films.
One of the big names of the disco era was the flamboyantly gay Sylvester. One of his biggest hits was the still exciting "You Make Me Feel (Mighty Real)." Well, there is an off-Broadway show about Sylvester that is scheduled to open on Sept. 12. One of the producers is Sheryl Lee Ralph. The title is "Mighty Real: A Fabulous Sylvester Musical."
THE "SOUL TRAIN" line is as much an essential part of Black parties and family gatherings as hustle lines. (How many "new hustles" have there been over the years? 500?) And most people assume it was created on "Soul Train." Introduced there, yes, created there, no.
Don Cornelius, "Soul Train" host, creator and producer, explained, "The 'Soul Train' line was something that we used to do at parties in Chicago in the '60s and '50s and I just borrowed it. It just caught on as the highlight of every show."
I never understood why they stopped featuring the line during the latter days of the legendary show.
BETCHA DIDN'T KNOW…that Dionne Warwick's sister, Dee Dee Warwick, had several hits of her own, including four that made the national Top 20, "Foolish Fool," "She Didn't Know (She Kept on Talking)," "I Want To Be With You" and the original version of "I'm Gonna Make You Love Me," later made famous by Diana Ross & the Supremes with the Temptations.
MEMORIES: "What Have You Done for Me Lately?" (Janet Jackson), "Un-Break My Heart" (Toni Braxton), "Jump" (Kris Kross), "Make Me Belong to You" (Barbara Lewis), "Silly Wasn't I?" (Valerie Simpson), "Get Back" (the Beatles), "On My Own" (Patti LaBelle and Michael McDonald), "I'll Try Something New" (the Miracles), "Don't Want To Be a Fool" (Luther Vandross), "I Feel For You" (Chaka Khan).
BLESSINGS to Cornelius Fortune, J. Michael McKay, Robert McTyre, Carmela McTyre, Janaya Black, Rocky Black, Sandra McCreary, Michael Goodin, Eric Hunter and Chris Campbell.
WORDS OF THE WEEK, from an anonymous source: "Always remember that you never know what another person might be going through."
Let the music play!
Steve Holsey can be reached at Svh517@aol.com and PO Box 02843, Detroit, MI 48202.