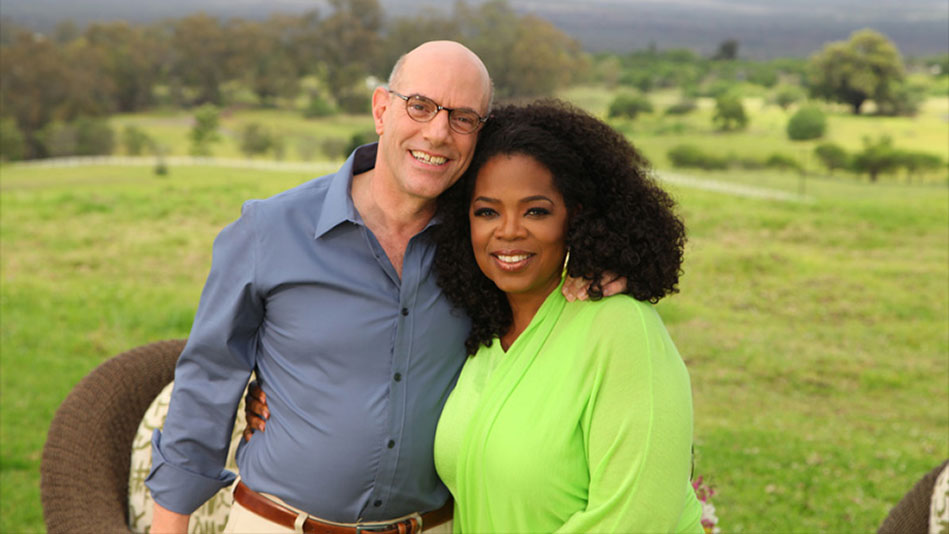 Mark Nepo has been called"one of the finest spiritual guides of our time," "a consummate storyteller" and "an eloquent spiritual teacher." His work is widely accessible and used bymany, and his books have been translated into morethan 20 languages. Mark has published 15 books andrecorded nine audio projects. Recent work includesThe Endless Practice (forthcoming from Atria, August 2014), Reduced to Joy (the book from Viva Editions and a box set of teaching conversations from Sounds True, September 2014) and Seven Thousand Ways toListen (Atria), which won the 2012 Books for a Better Life Award.
If you are a fan of OWN and Oprah's Super Soul Sundays, then Mark Nepo should be an household name for you, if not, then this is your chance to get to know a little bit more about the beloved poet, teacher and storyteller and his thoughts on gracing the stage on tour next to Oprah in Detroit this weekend.
MC: What does living your best life to entail?
Mark Nepo:
Everyday, we're asked to listen for the One Heart we're all a part of. When we can, our connection and compassion are renewed and our resilience is strengthened. In truth, integrity is the Universal and very personal practice of being completely who we are.
Each time we are that authentic, we love another piece of the One Nameless Heart back together. And loving the world back together is at the heart of every soul's destiny. So living our best life is staying open and committed to living and loving with an open heart.
No one is exempt from the messy and magnificent journey of being human. We don't arrive, we grow.
MC: What are the steps a person should take to finding their authentic self?
Mark Nepo:
First, we are asked to stay present to whatever life brings us so we can learn the language of our own wisdom. Through the fullness of our experience, we begin to thin what stands between our soul and the world. This makes us more humble and compassionate.
Then, as Mother Theresa suggests, we are called to do small things with love. Through grounded kindness, we find our kinship to a larger Universe. To live in accord with other living things is to be authentic.
MC: How did you get your start? Why did you choose this path of life and career?
Mark Nepo:
I have to say that life shaped me into seeking the conditions in which my soul could breathe. More than my choosing, this led me to a life of expression and teaching. Though teaching at its best is walking side by side in inquiry. The truth is that before I even knew about poetry or spirit, the world spoke to me in metaphor.
As a child, solitude was anything but quiet, but rather a place where the connections inherent in things showed themselves and I would listen, feeling their company. Of course, I had no language for any of this. It was in high school that I first started writing poetry, when the first woman I fell in love with dumped me. I had many acquaintances, but no real friends till college.
So I began to talk to myself and this helped heal my broken heart. I found depth and resilience in this self-conversation, which wasn't just self-referential. I had discovered through my pain how to open the self as a portal to everything larger than me. That was the conversation that was healing. And so, I had found a way to continue my conversation with the universe. But it was my journey through cancer in my thirties that brought me squarely into the life of the spirit.
Ever since, I've been devoted to continuing this conversation with the universe and with spirit and to keeping authentic company in any way that will help introduce people to their own gifts and wisdom.
MC: What should attendees look forward to from you and Oprah's The Life You Want Weekend?
Mark Nepo:
It's an honor to be a part of Oprah's heart-vision, which is bringing the conversation of authenticity, heart-work, and the Spirit at the center of all traditions to a larger audience. She is a great teacher of the heart and models authenticity.
People on the journey to a greater sense of aliveness will have a chance to meet their better selves, to befriend their gifts, and to discover their own wisdom. They will leave knowing their deeper selves a bit more and leave more alive.
MC: What can Detroit look forward to from you in the future? (projects, books, seminars)
Regarding my writing and teaching, I'm happy to say I'm sixty-three and still learning and growing. I just published my fifteenth book, The Endless Practice: Becoming Who You Were Born to Be, which I'm very excited about. I also have several new books underway, all of which inform my teaching explorations as well.
I have a new and expanded edition of my writing around cancer and healing coming out next year from Sounds True, called Inside the Miracle: Enduring Suffering, Approaching Wholeness. I'm also finishing a spiritual novel called This Strange and Blessed Humanness, which explores the timeless challenge about whether we enter life or just watch it.
I'm also entering my next spiritual inquires: a book on moments of community and how they work called More Together Than Alone, and a book on Effort & Grace. I'm drawn to work on many books at once, so they can inform each other. This way of working actually comes from watching my father, whom I lost this year at ninety-three.
He was a master woodworker who would have five or six projects going at the same time in his basement workshop. As a boy, I'd shuffle around and watch him work. In my own way, I'm doing the same thing, shuffling about my workshop, piecing together parts of the mystery.



For more information on Oprah's 'The Life You Want Weekend' Tour CLICK HERE