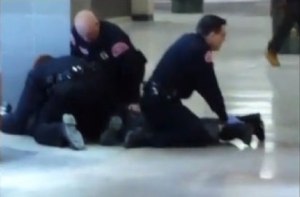 The other day we reported on the shooting of a New Orleans man, Armand Bennett, 26, who was shot in the forehead by a female police officer named Lisa Lewis. Bennet's attorney, Nandi Campbell, said her client never resisted, and she claims Officer Lewis fired a second shot at her client as he ran away.
We're also now finding out that Officer Lewis' attorney says that Lewis turned her body camera off because her shift was about to end and she was on her way back to the Fourth District station when she initiated the traffic stop that led to the shooting.
"What good is the camera if officers are able to take them off and just put them on the side?" Campbell asked. "There's supposed to be some sort of checks and balances, so if we have an officer who has no problems shooting at a man two times. Why should I be surprised that she took the camera off? I'm not surprised at all."
It's unclear yet if there's any other video from the scene.
"We want the officers to wear body cameras when they're engaged with somebody in the public, and we know many times that is going to happen and sometimes things happen very fast and they might not be able to," according to NOPD Chief Ronal Serpas. "But I don't know yet. I haven't seen this case."
Serpas also said Lewis and Bennett had gotten into a scuffle a week before Monday's incident, and Bennett got away. He said that prompted the NOPD to issue four different warrants for Bennet, which led to Monday's stop.
The shooting and the events that led up to it are under investigation.