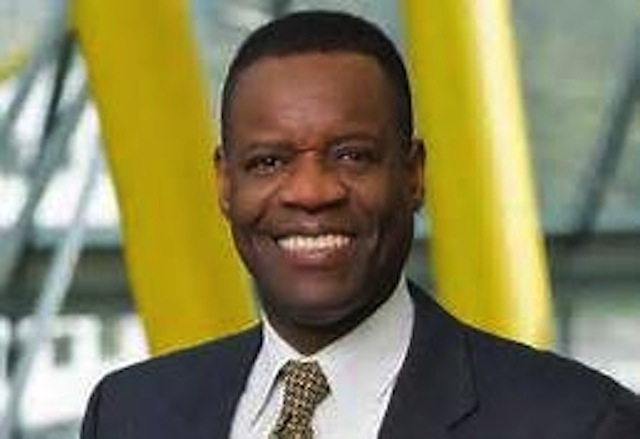 Peter Thomas is married, alright. But he seem to be married to "debt."
The "Real Housewives of Atlanta" star was buried deeper in financial debt than RHOA faithful realized last year because a new report claims that he tried to file for bankruptcy and that he even owed his wife Cynthia Bailey, thousands of dollars.
Thomas' Bar One bistro and club near downtown Atlanta filed for Chapter 11 bankruptcy, which would expunge the bar's debts, owing over $322,000k to various creditors including the IRS and his wife, says Reality Tea. Reportedly, he owed over $322,000 to a herd of creditors as well as the Internal Revenue Service. And, of course, his wife Bailey.
Remember that Thomas saw his other downtown Atlanta club, Uptown, cave under the weight of mountainous debts. The embarrassment was compounded because his financial partner, his wife Bailey, expressed bitterness about losing her investments in the ill-fated gig.
Fast-forward to today. Thomas is flailing about to try to keep his head above water with Bar One. Yet he was able to purchase a brand-new luxury whip without informing his major investor, again his wife, beforehand.
According to the report, this is the breakdown of Bar One's assets and debts:
Assets: $61,000
Debt to IRS: $32,000
Debt to $118,000 to the State of Georgia for taxes
Various other debts;
And $60,000 to Thomas, himself, for personal monies he invested in the business and was using to cover its operating costs.
$40,000 that Thomas was borrowed from Bailey.
To be fair, Bailey loaned $60,000 to help open up the bar, which he paid back in 2012. Unfortunately, Thomas had to re-borrow $40,000 to help keep the bar afloat.
Another report states that Thomas claimed that the bars monthly expenses were $100,000 but the place, during one month alone, only earned $1,500. Unfortunately for Thomas, the trustee moved to have the bankruptcy dismissed and it was eventually denied by a judge, leaving the bar liable for all of its debt.
Thomas claims that he and the Bar One business is good; only the owner of the building is in foreclosure. Thomas wants to acquire the property but the bankruptcy proceedings showing up on his credit report is a great hindrance in his aspirations.
Stay tuned to see if Thomas can leap over these mountainous hurdles and get his business in the black.
About Post Author