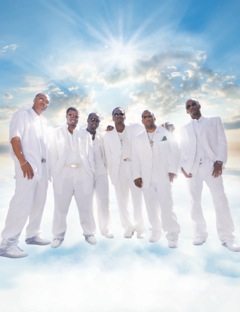 Ronnie, Bobby, Ricky, Mike, Ralph and Johnny … You know the names and they evoke the melodies of, among others, "If It Isn't Love," "Candy Girl," "Cool It Now," "Hit Me Off," "Mr. Telephone Man," "You're Not My Kind of Girl," "Count Me Out" and "Can You Stand the Rain?" In addition to knowing the songs, if you're a fan you also know the routines. And after 30-plus years, we all feel we actually know the group.
New Edition is one of the most revered R&B groups to come along in the last, well, 30 years. On June 26, the guys embarked on their "All Six" tour, which will be making a stop at Chene Park on Friday, July 25. Fans would have had the rare opportunity to see all six members on stage. Unfortunately, the excitement was quickly tempered as news of Bobby Brown's forced withdrawal from the tour for health reasons made its way around the country. As well wishes pour in for Brown, the group soldiers on.
Throughout their impressive career there have been ups and downs but long ago it became evident that New Edition was here for the long haul. As Johnny Gill stated, "We can think about all the things that have made us successful, but really in a nutshell it comes down to this being our destiny, our fate, and what God has for us."
That is something that cannot be denied in an industry where groups come and go, lineups change and many artists use a group as a launching pad to solo success. Their love for one another, the group and their craft keep New Edition together despite the fact that solo projects by members of the group in many cases have been more commercially successful than the group was during their initial run.