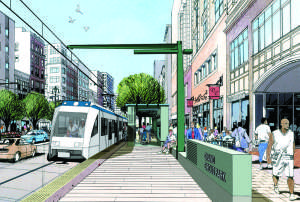 Representatives of M-1 RAIL on Wednesday shared details of what to expect when streetcar construction begins Monday, July 28, 2014.  The team also shared the anticipated near term and the full construction schedule of activities through 2016.
"Since announcing our construction start date, we have held several meetings with stakeholders who live, work and visit Woodward Avenue to set expectations about construction activities," said Paul Childs, Chief Operating Office, M-1 RAIL.  "Our goal is to ensure construction activities are completed safely and expeditiously with as little disruption as possible to businesses, residents and visitors."
M-1 RAIL construction activities beginning Monday, July 28 between Adams and Campus Martius include:
On the evening of Sunday, July 27 detour signage will be installed on the northbound and southbound lanes of Woodward Avenue from Adams Street south to Campus Martius.
Woodward Avenue will be closed starting 12:00 a.m. on Monday, July 28.  The north and south closure will remain in effect for approximately 120 days.
Construction work will generally occur between the hours of 7 a.m. and 7 p.m. Monday thru Friday.
Construction in this area will include: concrete removal, drainage and track installation, repaving, and utility relocation.
Sidewalks along the work zone will remain open.
M-1 RAIL representatives shared the anticipated construction timeline for the entire corridor through 2016.  "Streetcar Construction Overview" documents have been developed for the Downtown, Midtown and North End/New Center Districts.  Each construction overview includes a map, construction timeline and public transportation, parking, pedestrian and bicycle access information.
M-1 RAIL external relations team members will distribute "Streetcar Construction Overview" documents during regular project update meetings with business and the community stakeholders.  The information is also available at www.M-1RAIL.com/Construction.
The next meetings are:
M-1 RAIL Midtown Project Update Meeting 
Monday, July 21 from 6:00 p.m. – 7:30 p.m.
University of Michigan Detroit Center, 3663 Woodward Ave., Detroit, MI 48201
M-1 RAIL Downtown Project Update Meeting 
Tuesday, July 22 from 8:00 a.m. – 9:30 a.m.
M-1 RAIL Office, 1426 Woodward Ave. Detroit, MI 48226
M-1 RAIL Downtown Project Update Meeting 
Tuesday, July 22 from 6:00 p.m. – 7:30 p.m.
M-1 RAIL Office, 1426 Woodward Ave. Detroit, MI 48226
M-1 RAIL North End /New Center Project Update Meeting 
Thursday, July 24 from 6:00 p.m. – 7:30 p.m.
Firewater Bar & Grill, 6521 John R, Detroit, MI 48202
Other tools that will be used to share information about the construction schedule include an interactive construction map on the M-1 RAIL website and a weekly e-newsletter; both will be available the week of July 21.
To learn more about upcoming meetings and construction activities visit www.M-1RAIL.com and sign-up for the weekly e-newsletter, call 1-800-511-3931, "like" M-1 RAIL on Facebook or follow on Twitter.  The M-1 RAIL Office located at 1426 Woodward Avenue in Detroit is also open Monday – Friday 9:00 a.m. to 5:00 p.m.
The M-1 RAIL streetcar when complete in late 2016 will travel north and south on both sides of Woodward Avenue for 3.3-miles between Larned Street and W. Grand Blvd.  The streetcar will service 20 stations (16 curbside and 4 median running) at 12 locations.  Themodern streetcar system will serve Detroit's largest job centers and most visited destinations. It will ignite tremendous new economic development and job creation and will provide a foundation for improved and expanded public transit throughout the region. The project will also create construction and permanent jobs for Detroiters.