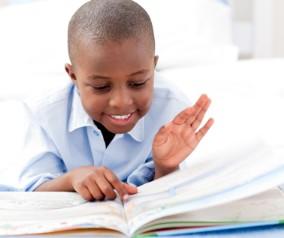 DETROIT (JULY 7, 2014) ­­– On Thursday, July 10, the Detroit RiverFront Conservancy in partnership with the General Motors Foundation kicks off the fourth annual Reading & Rhythm on the Riverfront(R3). This interactive and family-orientated summer program promotes literacy throughout Southeastern Michigan while giving children ages 3 to 10 and their families a chance to experience the stunning and re-energized Detroit riverfront. A preview of the R3 program was given during the recent eighth annual GM River Days festival in June.
"The GM Foundation has been a long-time supporter of the Detroit RiverFront Conservancy and this program is the perfect way to cultivate the love of reading among today's youth," said Karen Nicklin, GM Foundation Manager of Education Initiatives. "Early literacy is vitally important and programs likeReading & Rhythm on the Riverfront help ensure the academic success of children in our community".
The R3 program, presented by the GM Foundation and hosted by the Conservancy, stretches six weeks and features readings by local celebrities, as well as business and community leaders, such as Congressman John Dingell Jr. The program also boasts live and interactive family entertainment, healthy treats, free rides on the Cullen Family Carousel and free books provided by the GM Foundation in partnership with the Detroit Public Library's "Library on Wheels." R3 runs each Thursday and Fridaystarting July 10 through August 15 with programs each day at 11 a.m. and 1:15 p.m.
"The Detroit RiverFront Conservancy looks forward to providing such a positive and educational program, such as Reading & Rhythm on the Riverfront, every year," said William A. Smith, CFO of the Detroit RiverFront Conservancy. "This unique program gets children excited about reading. We hope that by showing how fun reading can be, children will continue to read and that will help them succeed in their educational careers."
The R3 program is open to all children and families. In addition, a number of Metro Detroit area non-profit organizations and groups, which focus on children ages 3 to 10, have been invited to attend various sessions throughout the summer. These groups include South Oakland YMCA, Wayne County Community Action Agency, and Southwest Solutions. Other organizations interested in registering their group for a program session should contact Rachel Frierson at 313.566.8234 or rachel.frierson@detroitriverfront.org.
Each R3 program begins at Rivard Plaza with exciting live entertainment provided by a variety of artists and groups each week to encourage audience participation and dancing. Guy Louis will delight all ages with a journey through time with folk music, rock, jazz, Motown, reggae and more. HarpBeat & Legertha features award-winning children's music with musicians playing Motown and R&B songs as kids help lend a hand to make music. Award-winning singer and songwriter, Kevin Devine will entertain audiences with his children-friendly musical hi-jinx and original songs. R3 will also offer a variety of fun, engaging, and interactive activities, including make-and-take crafts, at each session to help build literacy skills in young children.