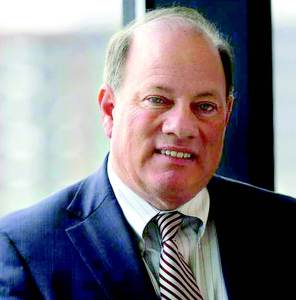 Despite operating in a power-sharing government with Emergency Manager Kevyn Orr where public safety is still not under his purview, Detroit Mayor Mike Duggan, touted his first six months in office as progress, telling hundreds of residents during a public meeting at the Coleman A. Young Municipal Center on June 30 that the city is making significant inroads when it comes to issues such as blight and abandoned buildings that have plagued Detroit for many years.
"We are going to roll through this city like no one has ever seen," an ambitious mayor told residents Monday night as his remarks reflected the kind of zest that was in his first State of the City Address during which he promised tangible results in six months.
"Here's what I know for sure: The change has started, and the change in Detroit is real," Duggan said in his State of the City Address at the time, outlining what he will do to upgrade streetlights and city parks, fix the Detroit Department of Transportation, attack blight and vacant houses.
Some political observers at the time Duggan promised six months as the time frame for Detroit to begin to experience meaningful change, dismissed the promise as unrealistic, citing the intractable, cultural and deeply structural problems in Detroit government accompanied by bureaucracy.
However, voices from across the business, political, educational and community spectrum are responding to the mayor's six months in office. Some with a sense of optimism and others with anxiety.
Daniel Loepp, president and CEO of Blue Cross Blue Shield of Michigan (BCBSM) who has moved thousands of employees to downtown Detroit from Oakland County with his "Proud to be Home in the D,"campaign long before Duggan ran for mayor, said Duggan is on the right trajectory in delivering on the promises he made on the campaign trail.
"Mayor Duggan is setting the stage for collaboration between government, the business community, community leaders and residents of Detroit that holds so much promise for a brighter future for the city," Loepp said. "He has done a great job establishing the foundation for the City of Detroit to function effectively once bankruptcy proceedings have concluded. He has always had a penchant for turning challenges into success stories and he is on his way to accomplishing that again."
Loepp said it is important to note that Duggan "came into office with a high level of commitment to the city and optimism for the renewal and revitalization of Detroit." The mayor's supporters and critics agree that Duggan is a bulldog when he wants to get things done.
And he is a "tough negotiator" at the negotiating table as he was once described by his former campaign manager, Brian Barnhill, during an interview with the Michigan Chronicle.
"He has built a mutually respectful relationship with City Council and with Emergency Manager Kevyn Orr. There may not always be agreement, but there is communication and collaboration," Loepp said. "He has also done a good job identifying and acting on immediate needs, and has gotten things done when it comes to things like re-aligning and improving key city services and tackling blight."
Dr. Curtis Ivery, chancellor of Wayne County Community College District (WCCCD), one of the flagship educational pillars in metro Detroit, said the city is in a historic moment, and that residents and all stakeholders should seize the opportunity and join the mayor to better Detroit.
It was President John F. Kennedy in his 1961 inaugural address who issued a historic challenge that throughout the years has been used to measure the extent to which individuals and organizations have been responsive to the needs of their communities when he said, "And so, my fellow Americans, ask not what your country can do for you, ask what you can do for your country."
In a similar vein, Ivery said Detroit­ers should not miss the opportunity to make their mark on a city that is on a comeback.
"This is an extraordinary point in our city's history and Mayor Duggan has recognized this by asking all Detroit­ers across the region to be engaged, and contribute what they can to build momentum towards a more successful future," Ivery said, noting that the need for an empowering education should be front and center in creating a better Detroit.
That is a sentiment that holds true for many who see an effective educational system in the Detroit Public Schools (DPS) as a gateway for a successful city and Duggan has indicated that he wants to team up with DPS, not take it over.
Ivery said it is important for Detroit's leaders to remind themselves of how giant political leaders like President Kennedy viewed education when he said, "Let us think of education as the means of developing our greatest abilities, because in each of us there is a private hope and dream which, fulfilled, can be translated into benefit for everyone and greater strength for our nation."
It remains unclear what kind of an educational agenda Mayor Duggan will initiate after his first six months in office.
"Our mission has always been to help all who come through our doors to achieve better lives through higher education," Ivery said. "We look forward with the mayor on that goal and providing opportunities for educational and career opportunities that have real world impact on the quality of life in our region. We should applaud Duggan's leadership at this most important time."
Mayor Duggan has built a rather interesting and very cordial working relationship with the Detroit City Council including President Brenda Jones, who has made many joint appearances with the mayor.
Some of those appearances include forums with the city's Booker T. Washington Business Association, and others were activities such as a joint press conference on the porch of the Grand Hotel at the 2014 Mackinac Policy Conference, as well as joint press releases on issues bearing both of their names.
"The relationship between the mayor and the council president is not a 'for-show' relationship. I think it is an actual relationship with the goal of moving the city forward," said Bill Ross, president of the Booker T. Washington Business Association, the African-American business group that hosted both Duggan and Jones for a forum on their first 100 days in office.
"I've seen some very clear evidence that the mayor has followed up on things like addressing vacant buildings," Ross said. "I can look to the quick turnaround and response from the mayor's office when you call to discuss or complain about an issue. I'm surprised at how he has delivered so soon."
Ross said Duggan's concept of district managers is working very well despite what some critics have branded as building a political machine that interferes with the role of council members who now represent districts.
"The district manager concept has worked very well because now there is a point person you can talk to," Ross said. "I've got actual situations and the response was timely."
Detroit City Council member Mary Sheffield said the mayor has made good on what he promised her.
"Mayor Duggan promised a personal and official crusade on a few issues such as lighting, blight, cooperation with council and restoring power to Detroiters via their elected officials," Sheffield said.
"With respect to lighting and blight, he forged new plans which put the city on a fast track to dealing with issues affecting residents' daily quality of life. For instance, every city block will have new lights by the end of 2016 and he has devised a plan to allow the Detroit Land Bank Authority to legally address the landowners of abandoned and blighted property."
Sheffield said in carrying out his promises Duggan has "in every step of the way, sought council's opinion and took our counsel and made appropriate changes. I also believe he is delivering on his promise to restore full power to the council and administration by putting the city in the best position to emerge from emergency management."
However, Louis James, former chairman of the Wayne County Port Authority and CEO of JASCO International, speaking to the Chronicle from Chicago where he is attending the Rainbow PUSH Coalition annual convention, said he has not seen any vision.
"I don't see any vision coming from the mayor's office. I don't see any real outreach to African-American business owners. From a political standpoint the mayor has people in place but I've not seen any movement whatsoever to help African-American businesses take part in the renaissance of the city," said James who was removed by Duggan from the Wayne County Port Authority. "I don't see any effort in helping small businesses with tax breaks in the city or attracting them. Quicken Loans can't give everybody a job in this city and the auto industry is already phased out. Where is the inclusiveness to the people that put you in office?"
Ross, the leader of the Booker T. Washington Business Association differs from James. He said Duggan has a commitment to Black business.
"You've got to put it in context. What is he (James) comparing it to? I think you are going to have to make an assessment based on individual projects," Ross said. "I think there is a commitment but we need to take a look at how far that commitment goes in terms of actual delivery in the contractual opportunities for African-American businesses."
Detroit Police Chief James Craig doesn't report to the mayor because in the power-sharing deal between Duggan and Orr, the police department answers to the emergency manager. It is not clear whether Duggan will retain the current police boss after Orr exits office in October.
For Detroiter Juliette Okotie-Eboh, a veteran of the Coleman Young administration, who has had many leadership roles in the civic and business community, public safety is her biggest concern, and she wants the streetlights to work.
"Public safety and security is a big thing for me. When I'm driving home on Jefferson I still see some of the streetlights that are not up," Okotie-Eboh said. "I know there is a public lighting authority but they need to share more information about how they are (working) so we know what is going on."
She said the six months benchmark that has been talked about so much is not going to solve all of the city's problems.
"I know it is not realistic to fix everything in six months," Okotie-Eboh said. "But it is important that the mayor and his staff talk to people and communicate what is exactly happening in the administration, not public relations. Because people need to understand what to expect of the mayor and the city leadership in improving their lives."
And where do young people fit in the first six months of this administration?
"As a young woman, who is extremely passionate about our youth I am excited about his (Duggan) commitment to employ our youth through his Teen Work Detroit Initiative, said Sheffield, the youngest council member. "This is an initiative that will create 5,000 jobs for Detroit teens during the summer of 2015, through an 8-week work program designed to create career pathways, an effort I will fully support."
Duggan has launched a program to sell vacant houses already rehabilitated through the Detroit Land Bank, and during Monday evening's meeting with the public, the mayor said he and the police chief are teaming up to rid the city of drug operations.
"It's time to seize drug houses. It is something the city has suffered badly from," Duggan said. "We're going to move in families who want to be a part of the neighborhood."
Bankole Thompson is the editor of the Michigan Chronicle. Email bthompson@michronicle.com.