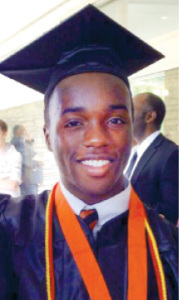 Ike Onwuzurike
It is difficult to reconcile the reality of having an 18-year-old child who is about to enter a prestigious college all of a sudden die from a tragic accident.
It is painful to see a brilliant son whose intelligence and potential for greater things in the future, affirmed by his colleagues and seen as a leader among them, would succumb to a tragic and unexpected death.
It is tough to imagine that a rising star only three weeks away from celebrating his graduation with family and friends at their home on July 12 after invitations had been sent out, instead will now be celebrated at his homegoing on July 2 at St. Hugo of Hills Catholic Church.
That is exactly what happened to Ikechukwu "Ike" Onwuzurike, the 18-year-old graduate of Brother Rice High School in Bloomfield Hills, who met his death June 17. after he fell off a raft in Lake Huron and drowned. His body was later found in the waters of Worth Township.
His father, Chris Onwuzurike, a Detroit businessman, told me the death of his oldest son, who leaves behind two younger brothers and a younger sister, has left him wounded for life. He said both he and his wife, Indira, are finding it difficult to come to terms with the sudden death of a child who would always make sure his parents laid hands on him and prayed before he left home each day.
"It would be hard for me to recover from this wound," Onwuzurike said. "This boy was the definition of perfection in every sense of the word. He had a ministry on this earth and now he is gone just in 18 years."
The challenge for his younger siblings according to their father is how three young children will move on without their older brother because Ike always "took care of them and played a real big brother role. Whenever I was out of town Ike would take care of them like he was their father. He bonded with them and they loved him."
A National Achievement Scholarship winner and officer of the National Honor Society, Ike was on the verge of attending the elite Washington University in St. Louis to study pre-med in the fall with the goal of transferring to the world-renowned John Hopkins University in Baltimore.
He showed promise, demonstrated scholarship and proved to his colleagues and teachers that he had the intrinsic qualities of a natural born leader. He put others before himself and would stay in school after hours to help his classmates who were struggling with their assignments. He represented well like an ambassador in national scholarly competitive activities, making his school and schoolmates proud.
That is why his schoolmates at Brother Rice, as well as teachers, all in tears, spoke so honestly, directly and emotionally about his absence as if he was an ever-comforting spirit in their homes before his demise. Some even testified that when he would be invited to visit their homes their parents would urge them to be like Ike.
At a vigil held for him that I attended at his high school the day after he died, hardly has a young African-American male been so celebrated in death by schoolmates from different backgrounds and life experiences. Hardly have I seen a promising Black child lifted up so powerfully in continuous and eloquent tributes by classmates whose different world views contrasted the one that Ike was born into.
In many ways it showed the power of this young African American who could have been the next Neil deGrasse Tyson, the American astrophysicist and science communicator. He could have been the next David Schachter, the former U.S. Surgeon General.
"When I met Ike in my freshman year he just greeted me and we just clicked. He had a passion and happiness in everything. He was always determined to do everything he set his mind to. He defined what everyone wanted to be," said Maurice Starks, 17, who is looking to joining the U.S. Air Force.
"He was a normal teenager but a perfect scholar student. We skyped a lot and he would sit there and show me how to work on my assignments until I got it. He told me never to give up. He was truthful and honest and always putting his best foot forward," Starks recalled.
Jacob Bouchard, the son of Oakland County Sheriff Mike Bouchard, who is planning on attending Michigan State University, said Ike was their motivation and would always tell them before track practice what the motivation of the day was.
"Every time before track practice he would tell us what the motivation was before we got to the field. He was my motivation," Bouchard said. "We all wanted to be like him. He always asked me what I wanted to do when I grow up and he would tell me to always remember where I came from because that's where I'm going. I told him I always wanted to go into politics and become the next president."
Bouchard said the death of Ike hasn't left a gap for him and others. Instead, "he made us want to be better. I know that I am not the best student but every time I try to do something I know that I have the right motivation in him."
Kevin Tapchon said his mother always urged him to be like Ike since they were first introduced.
"I just wanted to be like him. I was half the person he was. When I told him I wanted to go to Europe and play soccer he told me I could be anything I wanted to be," Tapchon said. "He was always the one that the teachers admired and there was no reason for him not to try to inspire people. He was going to be a great guy and do whatever he wanted to do."
Taylor Bonner, who wants to study elementary education at Michigan State University, was Ike's prom date. Her father attended the vigil in tears and talked about how the young man touched their lives within the short period they met him.
"He was always nice. I remember during our finals I didn't want to study, but he was telling me to study," Bonner said. "I froze and my heart just dropped to my stomach when I heard about this tragedy. He did not have a mean word to say about anyone. He was proud of his family and he talked about his siblings all the time."
Dr. Benjamin E. Mays, the former president of Morehouse College and the man who mentored Dr. Martin Luther King Jr., was looked upon as a great inspiration for African-American men who rose to make a mark on the world stage.
Mays was among the earliest influences on King's life, seeing the innate potential of a Southern Black boy who could change the world and he helped to cultivate the talents of the man the world would later come to know as America's second founding father and premier civil rights leader.
But Mays did not stop at just mentoring King. He mentored many Morehouse men. He offered many inspirational words of wisdom common in the tradition of oral and written African and African-American history to serve as a motivator to generations of Black men who would contribute meaningfully to making society the "beloved community" King talked about.
In one of his dictums about life as he saw it that explains why young Ike, the Brother Rice student, embodies unique qualities and skills the world has now been denied by his death, Dr. Mays said, "The tragedy of life is often not in our failure, but rather in our complacency, not in our doing too much, but rather in our doing too little, not in our living above our ability, but rather in our living below our capacities."
Benjamin Mays would have been proud of Ike if he had met the young Black boy who did a lot in concert with what Mays believed is a life well lived.
Mays would have seen in Ike what he himself described when he reminded us in another inspirational reflection that "every man and woman is born into the world to do something unique and something distinctive and if he or she does not do it, it will never be done."
Dr. King's mentor would have then concluded that Ike is an example of young Black men who understand that "it isn't a disgrace not to reach the stars, but it is a disgrace to have no stars to reach for."
Put simply, the Brother Rice student believed in the principle notion of the "beloved community," and he put his faith first and then his family, community, classmates, teachers and friends all ahead of himself.
Brother Rice has lost its pride. A star is gone. A young Black man with unbelievable possibilities has been lost to the ages.
To honor his legacy his family is establishing the "Ikechukwu Onwuzurike Memorial Fund,"at Chase Bank.
Bankole Thompson is the editor of the Michigan Chronicle and author of a forthcoming book on Detroit. His most recent book, "Obama and Christian Loyalty," deals with the politics of the religious right, Black theology and the president's faith posture across a myriad of issues with an epilogue written by former White House spokesman Robert S. Weiner. He is a senior political analyst at WDET-101.9FM (Detroit Public Radio) and a member of the weekly "Obama Watch" Sunday roundtable on WLIB-1190AM New York. Email bthompson@michronicle.com or visit http://www.bankolethompson.com.