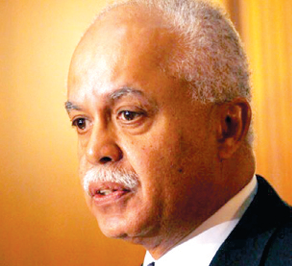 SPECIAL TO THE CHRONICLE
Warren C. Evans walks and talks with confidence as he revs up his run in the hotly contested Wayne County Executive race. Riding high atop a recent poll that gave him a 29 percent lead, more than double the next closest candidate, Evans recently stopped by the office of the Michigan Chronicle long enough to discuss the poll, as well as why he is the best candidate for the job.
"I take a certain amount of humility from that poll," Evans said. "It's nice to know that you can have that kind of lead, especially since it was a national pollster and not locally conducted. The more refined the pollster, the better information you can get. However, there is a lot of work that still must be done in this campaign."
Evans said that he is running because Wayne County needs a proven leader.
"We need a leader who knows how to manage, collaborate and innovate in order to run an efficient and transparent government," Evans said. "As a lifelong public servant, who has been a proven county-wide leader for 40 years and has worked and managed through some of our county's toughest times, I submit that I am the best person to get the job done."
Evans was quick to dismiss any notion that the only reason that he entered the Wayne County Executive's race was because of past run-ins with current Wayne County Executive Robert Ficano.
"I've had serious differences with Robert Ficano, and have even sued him," Evans said. "I had court determinations that my suit was valid and my department had been underfunded. So we have had those type of battles, but that's not what motivated me to run. It was my desire to better serve the people of Wayne County.
"Robert Ficano has made a number of blunders, both ethical and in leadership, with respect to crimes that were committed in his administration that I just call bad decisions which has cost taxpayers millions and millions of dollars. He does not represent the kind of leadership that Wayne County deserves."
Turning to the most pressing issues facing Wayne County, Evans points to public safety, which attracts businesses and promotes job creation.
"As Wayne County's next CEO, I intend to pursue a real plan for long-term growth," Evans said. "That will start with public safety, which is the ultimate quality of life issue. The Ficano administration has constantly cut the budgets of the Sheriff's Department and Prosecutor's Office. This actually increase overtime costs and court costs and decreases morale among our first responders, and it leaves more criminals on the streets of Wayne County."
Evans goes on to say that he will help the 43 communities that comprise Wayne County spend wisely by proposing shared police services and volume purchasing in the areas of vehicles, technology, office equipment, health insurance, liability insurance and more.
On job creation, Evans said, "Genuine job opportunities for the residents of our 43 communities cannot be created by gimmicks, schemes and backroom deals. The current Wayne County Executive's poor planning and execution have played a role in keeping Wayne County's unemployment rate above 10 percent for the past five years, with the loss of almost 3,000 businesses and over 126,000 jobs between 2004 and 2011."
Evans noted that small businesses are the largest creator of new jobs.
"As the next Wayne County Executive, I will appoint a small business ombudsman that will report directly to me," Evans said. "This person will work hand-in-hand with county small business owners. As a result, we will be the most welcoming county in the nation for anyone who wants to start or grow a small business."
Evans also talked about the importance of public transit growth to Wayne County and the surrounding regions. He said he had real and doable plans to improve roads and infrastructure, stop the losses of property values and population, and to work with unions, not against them.
Evans says that in order to return Wayne County to its days of greatness, it will take someone who understands how to collaborate with other stakeholders in the county and beyond.
"What is most important to me is, and my history has been this, I am a collaborative and regional guy," Evans said. "People say that in a political context, but I'm saying it because of my 43-year track record. When I became sherriff, the first thing that I did was sit down with 43 other police chiefs and essentially asked, 'What support do you need from me?'"
Evans points to Ficano's inability to successfully collaborate with key county stakeholders, especially Wayne County Prosecutor Kim Worthy. He made it clear that he (Evans) understands the need for the bigger budget that Worthy should have to be fully effective, and he will work proactively with the prosecutor at all times through all issues.
He also talked about several of the individuals that once were a part of the Ficano administration that now face criminal charges or have already been sentenced.
"At best, Robert Ficano has been asleep at the wheel…at best," Evans said. "I don't want to impugn anyone's integrity, but a leader leads from the front. With the things that have happened, it means that he is not managing adequately or he doesn't know what he's doing. And neither one of those are healthy signs of a true leader."
A native Detroiter, Evans, 65, touts his own county leadership role of almost four decades of service, saying that "there has never been an indictment or investigation against me, and that's not by accident because there are things that you tolerate and some things that you don't."
Evans also taleds about his one-time job as Detroit's top cop.
"As Detroit Police Chief, I'm proud of the men and women in blue who patrolled the county streets," said Evans, who has taught criminal law and related classes at Wayne County Community College District for 20-plus years, as well as the University of Michigan-Dearborn as an adjunct professor. "I'm equally proud to say that during my time as chief, violent crime was reduced by 27 percent."
Evans concluded by saying, "Now, in this critical time, Wayne County must have a leader who can come up with a plan and execute it to best benefit county residents and businesses.