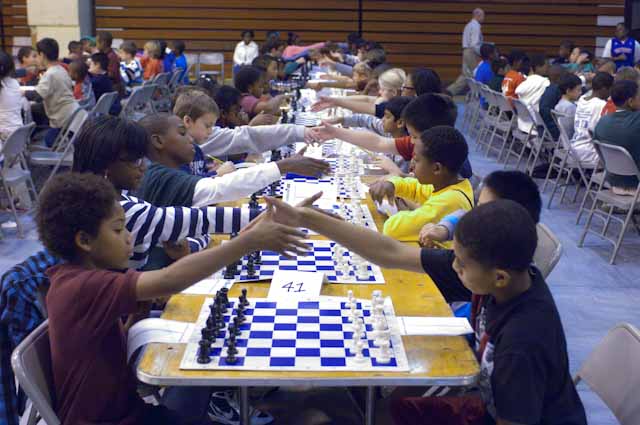 On Saturday, April 12, scores of Detroit area elementary, middle and high school students took part in what many are hoping will become a mainstay in school extra curricula activity around the region – a chess challenge. The Detroit City Chess Club and UAW-Ford held an all-day chess tournament at UAW-Ford's National Programs Center in downtown Detroit.
Involved parents beamed as they arrived at the UAW-Ford National Programs Center on W. Jefferson with young charges in tow to participate in the tournament as well as receive instruction from chess grand masters and compete for the opportunity to advance to the next level of play on a national platform. Detroit Thinkers sponsors six city-wide tournaments annually.
The Detroit Chess Club, an affiliate of Detroit Thinkers, a non-profit organization dedicated to developing chess play and strategy skills, launched the tournament series in 2010 to offer students of the prestigious board game an opportunity to develop their game playing prowess and expand their skills through individual and group challenges. More than 400 students from Detroit area schools and chess teams participated in the six-part series which culminated with one-on-one instruction from world-renowned chess grandmasters, Gregory Kaidanov and Alex Lenderman.
Event organizer and Detroit Thinkers founder, Kevin Fite, conceded that the tournament series was born of necessity and a lack of opportunity for young chess players to take the game to the next level. "The inspiration for the chess series actually came about after one of my students when I was a teacher at Duffield and one of my eight-grade students came up to me and asked, 'Where are we going to play if our high school doesn't offer chess?" and I didn't know what to tell her. … We used to have to go out to Lansing or Grand Rapids to play." The same eight-grade girl who posed the question to Kite not so long ago, went on to graduate from Western Michigan University and is currently a high-ranking military officer. "The biggest piece that educators seem to forget is that being exposed to this game and playing this game really builds self-esteem and confidence in our students who are afforded an opportunity to play on an adult level and beat them. I have students who beat me on a regular basis," quips Fite.



Grandmaster Gregory Kaidonov, formerly of the Russia who now resides in Lexington, Ky., agrees with Fite's assessment of the benefits of chess for young people and minority students. " I fell in love with the game when I was six years old and it was love from first sight. … I traveled around the country since I was eight years old and became a grandmaster at 28, which is relatively late by today's standards. Now- adays there is much shorter learning curve, with computers that offer databases that give students access to millions of games played by the best chess players and they can pay through ten games in a matter of minutes." Grandmaster is the highest title a chess player can attain.
But all agree that computer engines are not a substitute for the human element of chess play and competition. Chess instructor Sal Chehayub, a former math teacher added that students with attention deficit conditions and behavioral problems benefit greatly from learning chess. "There is a correlation between math, music and chess. … Learning chess is kind of like learning music, you need to practice and you need to play. You can learn chess in five minutes, anybody can push a button, but you can't become proficient at it and create a symphony until you play face-to-face and have the personal experience of playing live."
Studies prove that chess helps develop analytical and decision making skills which students and players can use in real life applications. "In many ways, our partnership with the Detroit City Chess Club offers the most immediate reward. You can literally see a change in these young people the moment they first sit down at a chess table and it grows with every match and every tournament," said UAW vice president Jimmy Settles.
Several universities and institutions of higher learning offer chess scholarships. Among them are: University of Maryland at Baltimore; Texas A&M; University of Texas Dallas; Jackson State University and many more.
The UAW- Ford National Programs Center continues its commitment of uplifting communities by supporting arts, sports and music in local schools and districts in which their members live and work.
For those interested in Please visit www.weplaychess.com for more information.