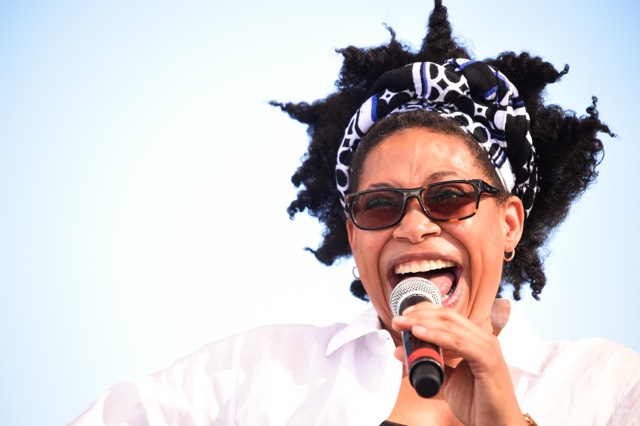 By D. Kevin McNeir
If you gauge vocal artistry solely on which singers you routinely hear on today's popular radio stations, you're doing yourself a real disservice, especially if channel surfing in your city hasn't exposed you to the dynamic talent and six-octave range of vocalist and musician Rachelle Ferrell.
Ferrell's vocal arsenal is in a word "amazing." In fact, few artists can match the awesome combination of God-given gifts that she possesses, particularly when considering her vocal range, phrasing and overall musicianship. Classically trained in violin and piano in her formative years, she first began singing when she was six years old.
Her album, "First Instrument," was released in 1990 in Japan – five years prior to its U.S. release, and remains one of the most outstanding examples of a vocalist taking jazz standards and making them their own. Her rendition of Sam Cooke's "You Send Me," Cole Porter's "What is This Thing Called Love," and Rodgers and Hart's "My Funny Valentine" illustrate her vast array of talents and why she has since captured the hearts and souls of jazz aficionados.  
But jazz is not the only genre that this singer, who can "wail like Minnie Ripperton," has mastered. Prior to embarking on her solo career, she sang backup for the likes of Lou Rawls, Patti LaBelle, Vanessa Williams, George Duke, and this writer's personal favorite, Phyllis Hyman. With the release of her album in 1992 consisting of self-penned originals, including the heartfelt duet with Will Downing, "Nothing Has Ever Felt Like This," she began to build a solid base of U.S.-based, R&B fans. Still, you can't help but be impressed when you consider some of the jazz musicians with whom she's worked and recorded: trumpeter Terence Blanchard; bassists Stanley Clarke, Kenny Davis and Tyrone Brown; pianists Eddie Green, Gil Goldstein and Michel Petrucciani; drummer Doug Nally; and saxophonist Wayne Shorter.  
This writer caught up with Ferrell after a performance that brought the crowd to its feet during her appearance at the recently-held Ninth Annual Jazz in the Gardens in Miami Gardens, Florida. As always, she was candid in her remarks and gracious with her time.
"I was ill last year and unable to perform so my prayer was that I would have the chance to return and make up for disappointing the fans," she said. "I just got out of the way so that the Creator could deal with all of the individual needs and raise the energy. It was everything that I expected and could have hoped for."
Revisiting the power of love
According to Ferrell, when she penned what would eventually become one of her most-requested songs, the above-mentioned duet with Downing, she never expected it to be so well received. And while she's understandably proud of its success, she notes that as the song took shape, she had one specific purpose in mind.
"I was in love then and I wanted the song to carry that message to others," she said. "It was a great period in my life."
Reflecting on her emergence as a respected vocalist and musician, she said, "I never envisioned myself as having the accoutrements to be a star but I had studied my craft and was confident that I had what was even more important – substance and form. The rest I left for God to develop."
Now, after a lengthy hiatus from recording, Ferrell says she is completing work on a project that will show just how much she has grown – both individually and as an artist.
"I'm in love again but this time it's more about being in love with life and, for the first time, about being in love with myself," she said. "It's been a long, hard journey but it's been wonderful too. We have to eventually realize that who we are is who we are. Where I go from here depends on where I'm called by God. I can't say where that will be but I can say that wherever the highest level of excellence is and wherever the greatest good can be done is the direction that I will follow."
As she embraces the joy that comes with loving one's self, Ferrell also notes that she hopes young, aspiring vocalists will realize that anything worth having, like a successful career in music, takes time and effort.
"We now live in a microwave age and many people expect life to follow in that instant, ready-made pattern," she said. "But to me it's just the opposite. For example, the voice consists of flesh and blood and so what we do to our body is what we do to our voice, and vice versa. It's essential that we grow and develop this precious instrument that God has given us. What comes after that is according to His will."
D. Kevin McNeir is an award-winning journalist who has worked with the Black press in Detroit, Grand Rapids, Atlanta and Chicago. For the past four years he served as the senior editor of The Miami Times.During his tenure, the paper was chosen twice (2011, 2013) as the nation's top Black newspaper by the NNPA. He currently resides in Virginia and is working on his first book, "Growing Up Motown." He can be reached at mcneirdk@gmail.com
All photographs were done by Gregory Reed, a seasoned, professional photographer residing in South Florida. From the stadium to the concert hall, his images punctuate your stories. He can be reached at gregoryreed@me.com