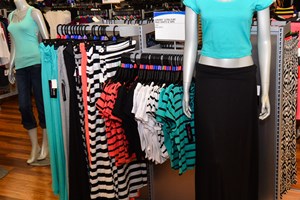 Best known for grocery, retailer recharges one-stop shopping experience with stylish mix and match apparel for the whole family
GRAND RAPIDS, Mich. – Meijer is best known for the freshness it offers in the grocery aisles, but more and more Meijer customers are now also looking across the center aisle for bright colors, geometric patterns and advice thanks to a major initiative to upgrade its apparel offerings.
"Restyling our fashion offerings is not only great for our customers, who are searching for on-trend fashion items at the right price, but it also enhances the Meijer promise of a one-stop shopping experience," said Peter Whitsett, executive vice president of merchandising and marketing at the Grand Rapids, Mich.-based retailer. "We knew our investment was sound over the holiday season when apparel realized a nearly 20 percent increase in sales."
Meijer and its Style Team unveiled this fresh approach in the fall through the distribution of a Fashion Look Book, social media and a new website, meijerstyle.com, that focused on inspiring customers to create the look that fits both their style and wallet. The Meijer Style Team is led by Lynn Hempe, the retailer's group vice president of softlines, and includes her buying team and input from fashion advisor, Mariana Keros, who has tracked the nation's hottest fashion trends for more than 20 years.
"We want our customers to know that we are serious about offering the most up-to-date fashion in our stores," Hempe said. "Our goal is to find that just-right mix where affordability and on-trend fashion inspire our customers to recognize opportunities to update their day-to-day style."
The efforts have not gone unnoticed, elevating the retailer's potential to compete with national retailers in this space, said Edward Nakfoor, an independent retail consultant based in Birmingham, Mich.
"Meijer is taking substantial steps to expand and upgrade its fashion offerings as evidenced by the variety of on-trend merchandise. The creation of its dedicated fashion website and social media activities can greatly enhance these in-store efforts," Nakfoor said. "The key, though, will be for Meijer merchants and marketers to solidify its presence in the seasons ahead, allowing it to become a true challenger to the well-entrenched competitors in this space."
Meijer will expand its focus on apparel this year with regional advertising in national fashion magazines, including Marie Claire, Harper's Bazaar, InStyle, Cosmopolitan and Elle, as well as the distribution of another Look Book that will feature spring trends.
The steady drumbeat of positive customer feedback, style spotters on Instagram and word-of-mouth has created very strong results:
Improved sales in Women's wovens, sweater dresses and leggings have highlighted the retailer's focus on trend-right product at a great price.
Fleece and yoga pants drove Women's Active up 56 percent over last year.
A 19 percent increase in accessories with cold weather accessories and sterling silver the biggest hits.
The Men's department saw double-digit increases in all categories with active and work wear as the drivers, and supported by on-trend national brands like Carhartt, Dickies, Wolverine, Caterpillar and Asics.
About Post Author