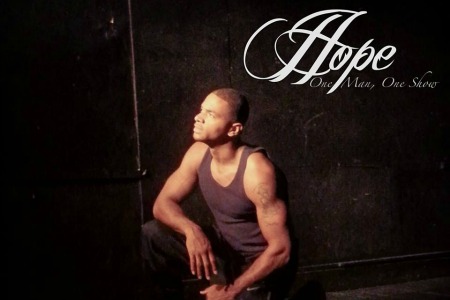 "HOPE", One Man, One Show
Fueled By Life Media Group LLC presents Jerry Ford's one man show, Hope, in the General Motors Theater at the Charles H. Wright Museum of African American History (315 East Warren Ave., Detroit, MI 48201) Saturday, February 1, 2014. There will be a 2:00 p.m. matinee show and a 6:00 p.m. evening show. A question and answer session will follow each performance. General Admission is $15-$20 and can be purchased at Hopedetroit.brownpapertickets.com.
Written by Jerry Ford and directed by Turron Kofi Alleyne, this riveting production is based on Ford's life growing up in Detroit, Michigan. Through various characters, Ford takes you on a tour of his childhood as he faces life or death choses on the streets of Detroit, from witnessing his older brother's murder and getting arrested at 16 to getting admitted into Rutgers University. It was these life-altering experiences that instilled a fire in his will to succeed through any darkness.
As he shares his story of perseverance, Ford weaves together humor, real life experience and personal anecdotes to form a piece that is amusing, poignant and inspirational. Hope was written to reassure people that there is a light shining somewhere along every dark road—it shows the world how any individual can overcome any obstacle.
Every show has its critics, but rarely has the praise been so uniformly positive:
"Detroit really needs to see this Amazing Show!" – Monica Blaire, Singer, Songwriter, Actress
"In a country where our economy is shaken, natural disasters are relentlessly destroying families and senseless acts of violence [are] happening on a frequent basis that rip the very core of our being, Hope is EXACTLY what our country needs!" –Turron Kofi Alleyne, Director, Hope; Actor, Invincible, Red Hook Summer
"Jerry Ford is an Excellent story teller, and boy does he have a story to tell!" –Allison Siko, Actress, Law & Order: SVU
"It's Amazing!" –Olivia Culpo, 2012 Miss Universe
About Jerry Ford
Jerry Ford is a Detroit, Michigan native and proud graduate of DSA (Detroit School of Arts) who went on to receive a BFA in Theater/TV from Rutgers University. Jerry now resides in New York City as a working actor, writer, and martial artist. Jerry's martial art skills allowed him to win multiple gold medals in the Junior Olympics, U.S. Open and other national tournaments. His one man show Hope, based on his life, has been featured at a variety of colleges, universities, motivational retreats, Off-Broadway stages and in 2013 Jerry was invited to bring Hope to the world famous Lincoln Center in New York. Jerry is currently finishing his first book, an autobiography entitled, From One Road to the Next.
About Post Author