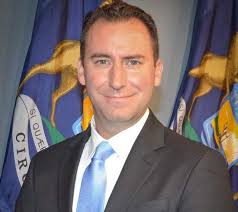 LANSING, Mich. – Gov. Rick Snyder today announced Jarrod Agen will join the governor's team as communications director. He begins his new job today.
Agen brings more than 15 years of experience in the public and private sectors. Most recently, he served as vice president of marketing and communications for Empowered-U, a Silicon Valley-based technology and education firm.
Agen has worked in communications roles for the U.S. departments of Homeland Security and State, and the U.S. Environmental Protection Agency as well as done public affairs work for international corporations. His wide ranging experience includes working for several state and federal political campaigns, including managing communications for California's 2010 gubernatorial primary race and Nevada's 2010 U.S. Senate race. He began his career working in the media for the MSNBC cable news network.
"We are pleased to welcome Jarrod Agen to our team," Snyder said. "He is accustomed to fast-paced environments and the challenges of telling big stories to audiences large and small. Michigan's comeback is an exciting story, and we welcome his leadership on our team to help tell that story."
Agen holds his bachelor's degree in communications from the University of Massachusetts. He is married to fellow communications professional Bettina Inclán.
Press Secretary Sara Wurfel and Deputy Press Secretary Dave Murray will continue to be primary media contacts for the governor.

Agen replaces Jeff Holyfield, who joined the Michigan Lottery in November to be public relations director.