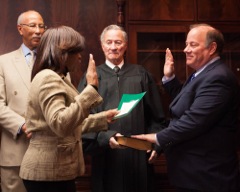 Photo Credit: Andre Smith
Detroit Mayor-elect Mike Duggan was officially sworn in as the 75th mayor of Detroit in a brief ceremony held inside the Coleman A. Young Municipal Center Wednesday.
With outgoing Mayor Dave Bing at his side, Duggan praised his predecessor, calling him one of his heroes.
"I'm going to continue to build on what he started, and I just want to say thank you," Duggan said during a brief ceremony punctuated by humor and informality.
According to reports, Duggan will also have to navigate around Detroit Emergency Manager Kevyn Orr who is still running the city but has given Duggan power to control some day to day operations spelled out in a six page document they both signed. It includes Public Works, blight, busses, lighting but not Police.
A public ceremony will be held next Tuesday, where the new Mayor will make his first speech.