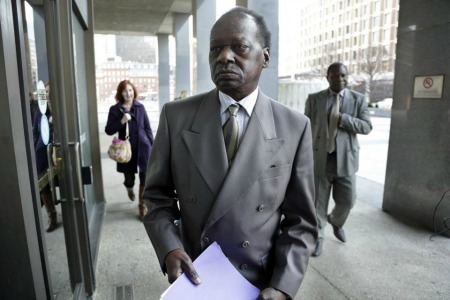 Onyango Obama (pictured), the uncle of President Barack Obama, can now remain here as per a federal judge ruling on Tuesday, reports the Boston Globe.
The 69-year-old man, who is the half-brother of the president's late father, Barack Obama Sr., has invoked his famous nephew's name throughout his court proceedings to fight off deportation efforts. Obama says he came to this country in 1963 as a teen from his native Kenya with the help of the president's father. He had a student visa at the time of his arrival which he did renew but allowed to expire in 1970.
The White House declared last year that the president has never met Obama. Yet the sexagenarian insists his famous nephew stayed with him for three weeks while he attended Harvard Law School in the 1980s.
Since the student visa, Obama has reportedly not obtained any other rights under U.S. immigration laws during his time here. He did, however, manage to obtain a valid Kenyan passport that has since been renewed but not much else.
An immigration judge ordered Obama to leave the country voluntarily back in 1989. Obama appealed the order to the Board of Immigration Appeals but lost and was ordered deported in 1992.
He never left the country.
Obama had been working as a liquor manager and living inconspicuously when Framingham, Massachusetts police flagged and arrested him back in August 2011 on a drunk driving charge. It was when Obama was given a year's probation for his crime, that his case and immigration status received national media attention. Many accused the government of giving him special treatment at the same time President Obama is deporting record numbers of illegal immigrants.
Obama, who never married or had any children while in this country is now welcomed here legally after his victorious courtroom win. He can now get a green card and apply for U.S. citizenship in five years unless the Department of Homeland security appeals the case.
Obama was granted legal status because according to the immigration judge, he came to this country before 1972 and had displayed "good moral character." The judge also pointed out that Obama has been an avid community volunteer and is a "kind and decent person."
Other than the drunk driving charge, no other charges have marred Obama's character.
In a similar situation, Obama's sister Zeituni Onyango was granted asylum in 2010 after a federal official leaked her immigration status to the press days before the president's 2008 election.
About Post Author