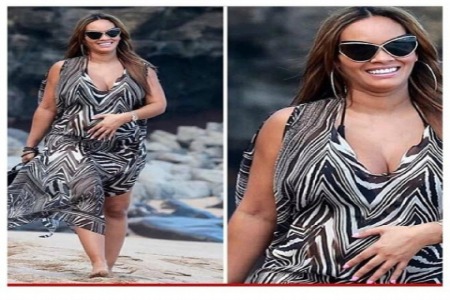 It seems that after all of the boo-hoo-ing that was done on "Basketball Wives" by star Evelyn Lozada over her messy split from ex-husband Chad Johnson, the reality star is finally moving on, pregnant and happy.
Lozada just announced via a selfie that she is six months pregnant with her second child and told Hollywood Life[1], "I'm in bliss and finally truly happy."
The 37-year-old diva, whose dramatic antics keep viewers coming back for more on "BBW," has many fans confused by her latest news. During the last season, Lozada, who divorced Johnson last year after an argument over infidelity led to him viciously head-butting her, spent most of the time crying over her lost two-month marriage on the show.
She never mentioned the fact that she had been secretly dating someone for more than a year.
On one episode of "BBW," Lozada and Johnson visited a fertility specialist in an effort to try to get pregnant. Johnson, who has four other children wanted he and Lozada to try for a boy. Lozada's daughter is 20 years old and she desperately wanted to have Johnson's baby, as seen on the show.
Reportedly, Lozada has found a new baby daddy and the relationship is a serious one. Up until now, only her family members knew about the pregnancy.
References
^Hollywood Life (hollywoodlife.com)
Read more https://atlantadailyworld.com/2013/12/05/39507/
About Post Author