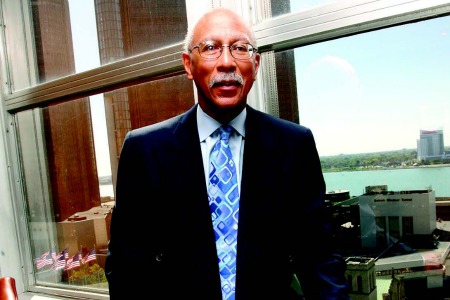 The days of Mayor Dave Bing's administration are winding down. In less than six weeks, Bing, after serving a four-and-a-half-year stint as Detroit's mayor, will pass the baton to Mayor-elect Mike Duggan. The transition of mayoral responsibilities will turn yet another page in Detroit's long and sometimes controversial political history book.
Most will agree that the city of Detroit was in dire straits when Bing took office in May 2009, compounded by the prolonged trials, tribulations, and missteps of former mayor Kwame Kilpatrick, followed by the eventual appointment of an emergency manager and the filing for bankruptcy, all punctuated by rising crime, a steady loss of population, an eroding tax base, and escalating blight.
What did Mayor Bing accomplish during his tenure to improve Detroit?
In an exclusive interview with the Michigan Chronicle, Bing talked about his administration's mission, goals and accomplishments during his time in office.
"What anyone would say is that my administration brought integrity back to the office of mayor," said Bing. "I think it was important and was difficult. I think what my administration does not get is credit for the many other things that we've done."
After taking office, Bing said that his administration's strategies were to focus on stabilizing the city's finances, improving the quality of life for all citizens, as well as repopulating Detroit. His mission centered on five key areas: public safety, public transportation, public lighting, neighborhood blight and recreation.
Public Safety — The mayor points to his administration's role in opening the $60 million, state-of-the-art Public/Safety Headquarters that consolidated police, fire, Homeland Security, EMS and IT operations; the donation and deployment of 23 new EMS units and 100 police cruisers from the corporate community; the addition of 100 officers on street patrol or in investigations; and the opening of 14 police mini-stations.
Public Transportation — No city or region can be great without a great public transportation system. Thus, the mayor advocated for the outsourcing of city bus management operations and identified the team to manage related initiatives; Bing played a major role in obtaining $31 million in federal funds for a Regional Transit Authority (RTA) and the future 3.3-mile M1 Rail system that will run along Woodward Avenue from downtown to Midtown.
Public Lighting — According to Bing, his administration pushed for the state legislature and Detroit City Council to approve his proposal to create a Detroit Public Lighting Authority to finance $160 million in new lighting and system upgrades; the plan to light Detroit is being implemented under the city's emergency manager.
Neighborhood Blight — The Bing administration is on target to demolish 10,000 vacant houses and commercial structures he promised to take down by the end of this year; Bing's quest to take down the dangerous structures was bolstered by funding solicited from HUD and other federal agencies. Bing's team also released Detroit Future City, a bold and innovative strategic plan for transforming neighborhoods through the best use of city land. The plan also provided ideas for powering job growth. The strategic framework plan, published in 2012, is laid out in an impressive 347-page book.
Recreation — Bing created the Detroit Recreation Foundation to raise funds to keep city recreation centers and parks open; his Active and Safe Campaign has garnered $14 million from businesses and foundations to upgrade, maintain and operate recreation centers and parks.
In addition to the aforementioned accomplishments, Bing said that his administration was instrumental in keeping General Motors in Detroit when the automaker was threatening to move its world headquarters out of the city, and spearheaded a regional deal involving investing in Cobo Center to the tune of $300-plus million in upgrades and expansion, which paved the way to keep the coveted North American International Auto Show in Detroit and at Cobo for many years to come.
Bing also touts his administration's proactive involvement in assisting the police department to reach 92 percent compliance with two federal consent decrees; the compliance rate was around 29 percent when he first took office. Bing spoke about his role in forming and maintaining a great relationship with regional political leaders in three surrounding counties, as well as forming an alliance with the Obama administration that was instrumental in delivering needed money to invest in Detroit.
"It's important for my administration to get the credit it deserves," said Bing.
"As I've always said, it's not about me because I'm a team player; it's about those who work in this administration. I want to make sure that the people in this city know what this administration did to help move Detroit forward."
Bing, along with Gov. Snyder and Goldman Sachs' CEO Lloyd Blankfein, recently announced a historic partnership that will bring Goldman Sachs 10,000 Small Business initiative to Detroit. The move will help create jobs and spark economic growth.
While Bing's administration has reached other significant milestones, the mayor is aware that some people will say he could have done more. Bing, however, is unfazed.
"I'm a pretty optimistic person," he said. "I always look at the glass being half full, not half empty. I believe there has been too much focus on what didn't get done, or what we have to do, versus what was done. As tough as it is, I think we have to focus on the positives versus the negatives. The negatives are going to be there; we are not ducking or hiding from them."
Bing said that his office has had positive conversations with Mayor-elect Duggan and the incoming mayor's transition team to help in the changeover. The mayor's efforts to help Duggan during the transition period is the opposite of what Bing received when he took office.
"I was voted into office on May 5, 2009 and started work on May 9," recalled Bing.
"Because of what had transpired in the last administration, there was nothing for me to put my arms around. There were no plans, data or directions. I focused in the beginning on changing the mindset and culture within the organization (city government) because what was being done, in a lot of cases, we found out was illegal. We couldn't continue down that road. Mike Duggan will not have that to deal with."
"I've known Mayor-elect Duggan for a long time," said Bing. "I served on the board over at DMC when he was there. We have different styles and different personalities. We have talked and I have given him a lot of information that will help prepare him for when he takes office. The biggest challenge that he will have is how to work with the emergency manager.
"My personal relationship with the EM is fine. I respect him. He's smart and is an accomplished guy. But the disconnect has been in trying to run city government.
"When we first got together, it was intimated, discussed and agreed upon that his focus would be on the balance sheet to relieve some of the city's debt.
"However, somewhere along the line, I think Lansing got too heavily involved and wanted him to take over and run city government."
He continued, "Kevyn Orr is finding out that things don't move as fast as he would like. He's been here for nine months, with nine months to go. When people look at their quality of life, most would say it hasn't changed that much since his arrival because the problems are so deep and so entrenched."
Following the early January 2014 inauguration that will install Duggan as the city's new mayor, Bing will explore numerous options pertaining to
his future. He did not confirm or dismiss speculations that he will run for Wayne County Executive or U.S. Congress.
"First, I'm going to do something that I've never done before in my life," said Bing, with a laugh. "I'm going to take about three to four weeks off in the month of January. When I come back, I want to be supportive and help clean up the city and help improve recreation services for our citizens."
Bing admits has an affinity for the city's recreation components, as well as with mentoring youth, especially inner-city youngsters. It was as a youth, while growing up in the inner-city sector of Washington, DC, that Bing learned the lessons of character and integrity from his parents and mentors. On the outdoor and indoor courts of DC's recreation department, he also learned how to launch unstoppable jump shots. In high school, Bing excelled in basketball, while quickly learning that the game would be his passport to prosperity.
During his senior year in high school, Bing was heavily recruited by numerous basketball powerhouse programs, such as the University of Michigan and UCLA. He chose Syracuse University where he went on to earn All-American honors. In 1966, Bing was drafted as the second overall pick in the NBA draft by the Detroit Pistons. He would go on to play most of his outstanding 12-year career with the Pistons.
His commitment to playing the game at its highest level earned him inclusion as one of the NBA's 50 greatest players of all time. Following his playing days, Bing could have lived anywhere in America or beyond, but chose to remain in this region, where he started Bing Steel in Detroit.
Bing was asked how he wants to be remembered after leaving office.
"I want them (Detroiters) to remember that I stepped up when leadership in this city was being questioned," Bing said.
"I want people to know that I cared enough to come to the table during one of the most turbulent times in the city's history and restored integrity, team spirit and hope back into the office of mayor.
"I didn't do it for pats on the back or for credit because I'm very comfortable in my life and what I have accomplished. I did it because I love this city and wanted to be a part of its comeback.
"After I leave office, I will be around to help this city and its people move forward. I'm not going anywhere."