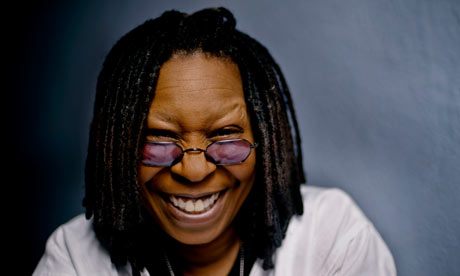 What's in a name? According to untold numbers of singers, actors, actresses and others, plenty.
Very often they use a name other than what's on their birth certificate because they believe it will increase their chances of making it in the entertainment industry.
In some cases, they may very well be right.
Would Whoopi Goldberg be a celebrated stand-up comedienne, Academy Award winning actress and popular television personality if she had used her birth name, Caryn Johnson?
Maybe. Maybe not.
It is difficult to imagine the iconic Tina Turner — David Bowie once said being on stage with her is "the hottest place in the universe" — becoming famous as Annie Mae Bullock.
HARDCORE rap star Snoop Dogg, now known as Snoop Lion, and originally called Snoop Doggy Dogg, may not have had as much "street cred" as Cordoza Broadus, Jr.
Speaking of street cred, another hardcore rapper, and also an actor with proven abilities, Ice-T, has a birth name that does not fit the "tough, from the streets" image — Tracy Marrow.
Kool Moe Dee was a popular attraction in rap in the late '80s and early '90s, but only a handful of people knew that his name is actually Mohandas Dewese.
Let's not forget rapper/actor Bow Wow, whose name is really Shad Moss.
Kim Weston had a classic hit during Motown's golden era written by the prolific Holland-Dozier-Holland, "Take Me in Your Arms (Rock Me a Little While)." But would "Agatha Weston" have looked as good on the record label and on marquees? No.
SIMILARLY, the legendary and eclectic Nina Simone might have been "challenged" had she decided to pursue her career as Eunice Waymon.
In the sports world (sports is entertainment too), Kareem Abdul-Jabbar likely would have been teased in the locker room and beyond had he used his given name, Ferdinand (Alcindor).
And then there's George Michael. Not only would his success chances be reduced, but many people would have had trouble pronouncing his name, which is Georgios Panaylotou. (As you may have surmised, his heritage is Greek.)
And we can't overlook hip-hop and R&B artist Akon. If you check his birth certificate, you will find the complex name Aliaune Damala Akon Thiam. (If you guessed African heritage, you guessed right.)
BUT MORE often than not, the person just likes the sound of the chosen name better. And in so many cases, the general public is not aware of what the celebrity's name actually is.
A lot of people know that Jay-Z's birth name is Shawn Carter, that Chaka Khan is really Yvette Stevens, that LL Cool J is James Todd Smith, and that P. Diddy, also Diddy and formerly Puff Daddy, is actually Sean Combs.
Less known is the fact that Drake's full name is Aubrey Drake Graham.
Macy Gray, the eccentric singer and actress whose voice is reminiscent of Donald Duck, grew up as Natalie McIntyre.
Sisqo, of Dru Hill and a platinum-haired solo success in the late '90s and early 2000s, was born Mark Althavean Andrews.
The legendary singer/actress Di­ahann Carroll played around with "Carol Diahann Johnson" and came up with her stage name.
Just as Detroit's own Della Reese developed that name from Delloreese Early.
MOS DEF, the rap star with a surprising amount of acting skill, got that nickname because he was in the habit of saying "mos def," as in "most definitely."
However, not long ago he announced changing his show business name to Yaaiin (it's Islamic), but he was born Dante Terrell Smith.
It's hard to imagine Jamie Foxx is anything other than that, yet his real name is Eric Bishop.
John Legend had big dreams, so the name John Stephens wouldn't do.
Queen Latifah had similar plans, hence the name transformation from Dana Owens.
Nicki Minaj, known for outrageousness, pink hair, a huge posterior and feuding with Mariah Carey on "American Idol," has a birth name just as unusual: Onika Maraj.
Rapper/actor Common is really Lonnie Rashid Lynn, Jr.
THE NAME Chubby Checker is synonymous with the twist, and he got the name, a play on "Fats Domino," from Dick Clark's wife at the time, Barbara. It was more commercial than Ernest Evans.
Ricky Martin, the Latin sensation who had the world "livin' la Vida Loca" in 1999, is in actuality Enrique Morales.
Check Nelly's birth certificate and you will find the name Cornel Haynes, Jr.
D'Angelo is Michael Archer. Sinbad is David Atkins. Elton John is Reginald Dwight. Ne-Yo is Shaffer Smith. Ice Cube is O'Shea Jackson. Joan Rivers is Joan Molinsky. Cee Lo Green is Thomas Calloway. Ginuwine is Elgin Lumpkin.
And on it goes.