These days, high turnover rates are the new normal at many companies. According to the U.S. Labor Department[1], many people hold at least 10 different jobs between the ages of 18 and 40.
This staggering statistic got us wondering: Why do some people stay at their jobs for their entire work lives and others feel the need to jump ship just as soon as they dock?
We asked longtime sports journalist Tony Graham, 69, how he was able to stay put and remain happy. Graham served as a sports writer for New Jersey's Asbury Park Press[2] and a broadcaster for its sister radio station, WJLK,[3] for almost 45 years, before retiring last August. During his time on the job, he covered literally thousands of high school and college sporting events at the Jersey shore.
Here are some of the life lessons we learned from Graham:
When you love your work, you never have to work a day in your life.
"I loved going to work every day and getting to do what I was doing," Graham said. "I cared about the teams I covered, got to cover the best games each week. I regularly had to slap my head in disbelief that I was actually getting paid to do something that was so much fun. If I had gone somewhere else — say to a bigger news organization or to do broadcasting for one of the professional teams — I wouldn't have had the same assignments, would have had less autonomy and certainly wouldn't have had as much fun."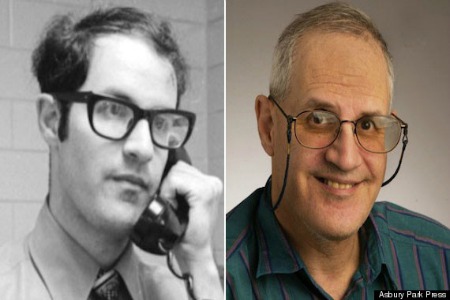 Graham in 1973 and 2003.
Know what makes you happy, and stick to that.
Many journalists spend the early parts of their career at smaller publications and then head for big cities and bigger news markets. But Graham didn't. "Never even tempted to leave," said Graham. "I hate New York City and I hate those teams. I never wanted to work for them. Plus, I knew what made me happy. And it was this."
Being a big fish in a small pond has its benefits.
Graham, a modest man who wouldn't ever admit this, is nothing short of a local legend. There isn't a neighborhood eatery he can enter without someone approaching and wanting to talk about last night's game.
At his retirement party, someone recalled how Graham got stuck in a massive traffic jam going to the 1981 state high school basketball championship. Cars were literally stalled in place on the narrow road leading to the Princeton University gym, with 9,000 fans trying to fight their way in — horns a'tooting, tempers flaring, Jersey-style. Afraid he would miss the game, Graham's editor in the passenger's seat shouted out the window to the drivers, "I've got Tony Graham here in this car! He has to get to the game!" The words were picked up like a mantra, each driver spreading the message forward. Drivers inched over to give Graham's car room to pass them, much the way you would for an ambulance. The scene was later compared to Moses parting the Red Sea — and it was long suggested after that the game would have likely been held until Graham got there, anyway.
Professional advancement can come at a cost.
People who left the Asbury Park Press scattered to the four corners (including this writer, who moved to Los Angeles in 1991 for a job with the LA Times). Relocating often means leaving family and friends behind and rebuilding a life somewhere new. Many who moved for jobs with higher salaries wound up in cities where housing was far less affordable.
For Graham, advancement within the organization was equally unattractive. "Sports editors don't get to leave the building," he said. "I wanted to be at the games, not trapped behind a desk somewhere."
Graham interviews Lakewood high school football player Jerry Jones at practice.
Always remain open to adapting.
While technology and how news content is shared changed dramatically during his 44 years at the paper, at his core, Graham was always just a huge sports fan. He didn't let technological changes detract from what he loved about the job. In fact, he embraced them.
"I like that social media brought me closer to my readers," said Graham, who personally responds to every tweet, email and comment left on his stories. "Social media also added to the length of my work day," he said, "but that's mostly because I believe that every reader deserves a response."
Sometimes, your job can save your life.
Graham's wife died in 2009 after a long and difficult illness. He was her primary caregiver for much of her struggle. Being able to have a game to look forward to served as a distraction from his wife's suffering and his own pain over her illness.
Many people wind up in jobs they enjoy, but when a personal crisis strikes, they are torn between work responsibilities and handling the crisis. In Graham's case, the ability to do his job during the crisis provided him with a break in the personal stress. "I mean it," he said. "I loved my job. It saved my life."
Leave on your own terms.
Graham said he retired not because the fun stopped, but because he wanted to leave while he was still well-regarded. "I wanted to leave on my own terms, to have people be shocked and surprised to hear I was leaving," he said. After a hiatus and some traveling, he expects to do some freelance writing.
Also on HuffPost:
"; var coords = [-5, -72]; // display fb-bubble FloatingPrompt.embed(this, html, undefined, 'top', {fp_intersects:1, timeout_remove:2000,ignore_arrow: true, width:236, add_xy:coords, class_name: 'clear-overlay'}); });
References
^According to the U.S. Labor Department (www.nytimes.com)
^Asbury Park Press (www.app.com)
^WJLK, (tunein.com)
Read more https://www.huffingtonpost.com/2013/12/03/tony-graham_n_4274776.html?utm_hp_ref=detroit&ir=Detroit