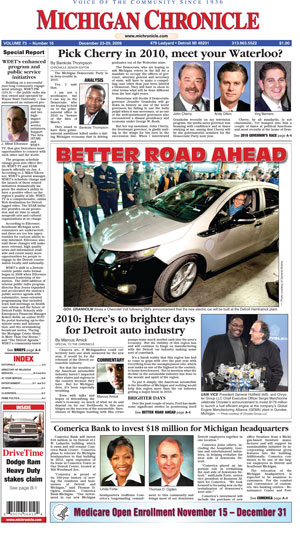 The Michigan Chronicle 40 Under 40 Award identifies and awards young leaders making decisions that will ultimately equip Detroit to compete and thrive in the global market. We received over 100 nominations. Our esteemed selection committee checked references and debated merits before identifying a new cadre of emerging leaders who deserved to be recognized.
I am honored to introduce the 2013 Michigan Chronicle 40 Under 40 honorees. These hardworking individuals are committed to the city of Detroit and stand in opposition to the often talked about "brain drain." They come from varying professional backgrounds including the arts, engineering, medicine, education, business and politics. They demonstrate having sound values and strong moral character.
At the Michigan Chronicle, we are committed to engaging a diverse community and highlighting the outstanding members of our readership. Please join us Friday, October 25, at the Charles H. Wright Museum as we celebrate the success of the 2013 class. For tickets or mre information, please visit michiganchronicle.com.