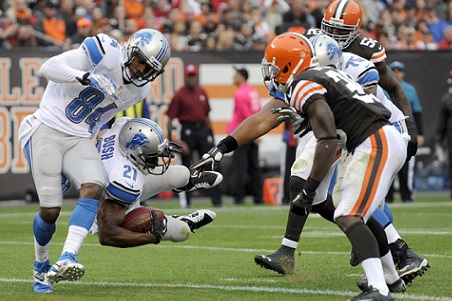 Lions 31, Browns 17: Matthew Stafford threw three of his four touchdown passes to rookie tight end Joseph Fauria, including the go-ahead score with 10:35 remaining in the fourth quarter as visiting Detroit continued its dominance over Cleveland.
Stafford completed 25-of-43 passes for 248 yards and Reggie Bush gained 78 yards on the ground while adding a receiving touchdown for the Lions (4-2), who improved to 15-4 in the all-time series against the Browns with their sixth win in the last seven meetings. Star receiver Calvin Johnson saw limited action after missing a game with a knee injury, making three catches for 25 yards.
Brandon Weeden was 26-of-43 for 292 yards with two touchdowns and two interceptions for the Browns (3-3), who had their three-game winning streak snapped. Josh Gordon had seven receptions for 126 yards.
Fauria hauled in a 1-yard TD pass with 3:27 left in the first quarter to open the scoring and, with Detroit trailing 17-14, caught a 23-yard scoring toss from Stafford early in the fourth to put the Lions ahead for good. After David Akers kicked a 51-yard field goal to make it 24-17, Stafford hit Fauria with a 10-yard pass with 2:05 remaining to seal the victory.
Cleveland dominated the second quarter as Weeden connected with Chris Ogbonnaya on a 4-yard scoring toss and found Greg Little for a 2-yard TD with 1:20 left for a 14-7 lead. After three straight incompletions by Stafford, the Browns got the ball back and Billy Cundiff booted a 40-yard field goal eight seconds before halftime to push the lead to 10.
GAME NOTEBOOK: Cleveland has not won four consecutive games since Dec. 10, 2009-Jan. 3, 2010. … The Lions lost their previous two road contests this season. … Travis Benjamin led the Browns in rushing, gaining 45 yards on his lone carry. Veteran Willis McGahee rushed 10 times for just 37 yards.
About Post Author