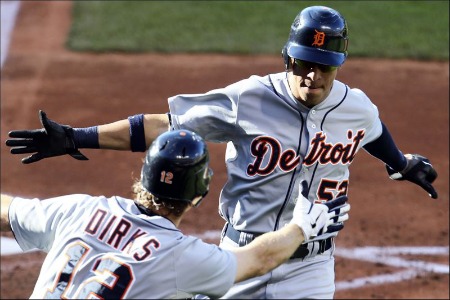 Last season, the Tigers were able to take care of the Athletics in the fifth game of the ALDS. Justin Verlander was able to lead the Tigers to a win in game one and game five. This season it is Max Scherzer who has the ace spot in the rotation.
The likely Cy Young winner will face off against Bartolo Colon in the opener. Bartolo Colon is coming off a stellar year, going 18-6 with a 2.65 era. While his record and ERA are similar to Scherzer's, there is one key difference. Scherzer had 240 strikeouts to Colon's 117. Colon's contact style pitching will most likely get him into trouble against the high powered Tiger offense.
Bartolo Colon also seems to be the ageless wonder. He is putting up career numbers at 40 years old. Last season Colon missed the playoffs due to a 50 game PED suspension. You cannot help but wonder about his late career resurgence. An overweight pitcher having resurgence at 40 seems too good to be true.
Oakland comes into this series with very limited star power in comparison with the Tigers. However, they didn't have a problem scoring runs as they ranked fourth in runs scored this season. The Athletics have four players that have at least 22 homeruns.
The Tigers have counter with a league best .283 batting average. The Tigers have multiple players who were able to hit .300. Oakland on the other hand only had Donaldson who hit .301 and a .254 team average. Donaldson also lead the team in RBIs with 93.
One important factor in this series will be Miguel Cabrera's health. His numbers suffered in September due to injury as he only hit .278 with one home run. Cabrera is still not 100 percent but seems to be feeling better as of lately. The Tigers can produce without him but their chances of winning defiantly increase with a healthy Cabrera.
The difference maker for the Tigers will most likely end up being pitching. The Tigers come in with a four man rotation that contains three pitchers who had over 200 strikeouts. Each pitcher also had at least 13 wins and an ERA below 4.
If the Tigers are able to play to their potential, they will be very tough to beat. This is a team that is build for the World Series and anything less should be seen as a disappointment. I predict the Tigers in 4 games over Oakland.
Probable Matchups:
Game 1 Friday 10/4 in Oakland: Max Scherzer vs. Bartolo Colon
Game 2 Saturday 10/5 in Oakland: Justin Verlander vs. Sonny Gray
Game 3 Monday 10/7 in Detroit: Jarrod Parker vs. Anibal Sanchez
Game 4 (if necessary) Tuesday 10/8 in Detroit: Dan Straily vs. Doug Fister
Game 5 (if necessary) Thursday 10/10 in Oakland