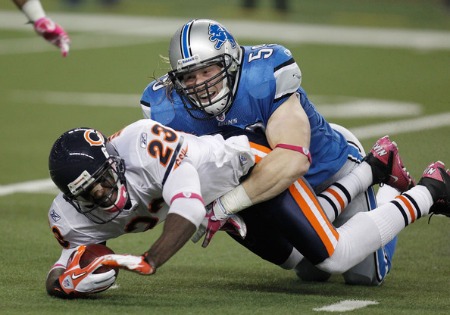 The Lions put up 27 points in the second quarter on Sunday on their way to a 40-32 victory over the Chicago Bears. The score doesn't reflect the Lions domination of the Bears. Chicago scored 16 points in the last four minutes of the game.
In the second quarter, the Lions were able to score three touchdowns between 6:09 and 2:43 remaining. Stafford accounted for two of the touchdowns, one rushing and one passing to Johnson, while the third Lions score was a 37 yard run by Bush.
Returning from injury, Bush didn't seem to miss a beat as he was able to gain 139 yards on 18 carries. He averaged a massive 7.7 yards per carry. Bush also had four catches for 34 yards. It was good to see that Reggie Bush was able to produce after taking a week off due to a knee injury. He looks to be at full strength going forward.
The Lions didn't seem to be affected too much by the loss of Nate Burleson. Burleson was injured last week in a car crash. Kris Durham and Brandon Pettigrew were able to step up in his place. Durham had three catches for 58 and Pettigrew had 7 catches for 54.
Considering that Pettigrew is known for his lousy hands, it was encouraging to see him record seven catches on seven targets. The Lions did lose two fumbles on the day but neither was Pettigrew. Pettigrew could have a large impact on the offense if he continues to produce like this. Burleson's production will have to be replaced by someone.
The Lions defense did great job containing the Bears' offense. They were able to force 4 turnovers while holding Matt Forte to 95 yards rushing and Brandon Marshall to 79 yards receiving. Jake Cutler was both sacked and intercepted three times.
Louis Delmas accounted for two of the three interceptions. Nick Fairly returned a fumble for a touchdown in the third quarter. Two of the three sacks came from Ndomukong Suh. The Lions need Suh to continue this high level of production if they want to make up for the loss of Jason Jones.
It was a good day for the Lions special teams as they didn't give up a big return to the dangerous Devin Hester. The Lions also got a 57 yard punt return from Micheal Spurlock which set up the Lions first scoring drive in the third.
After a very encouraging win, the Lions will travel to Green Bay next Sunday for a 1pm game.
About Post Author