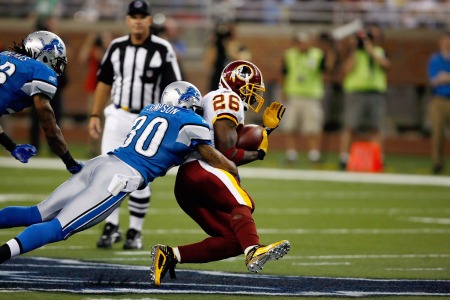 The last time that the Detroit Lions beat the Washington Redskins on the road was in 1935. However, at that time they were known as the Boston Redskins. Since 1935, the Lions have lost 21 straight road games to the Redskins.
Sunday, the Lions were able to break the historic streak with a 27-20 victory. The Lions are off to a 2-1 start while the Redskins have now dropped their first three. They were able to force two turnovers against Robert Griffin III.
The Redskins offense continued their offensive struggles this week as they didn't score an offensive touchdown until 3:29 was left in the second quarter. Their first touchdown was an interception return by DeAngelo Hall.
Reggie Bush missed the game as the Lions wanted to play it safe with his knee. The offense was able to function without him largely due to Joique Bell. Bell ran for 63 yards on 20 carries and a touchdown. He also caught 4 balls for 69 yards.
One of the biggest plays of the game was a 57 yard touchdown pass to Aldrick Robinson. The Redskins touchdown was called back on what Lions fans know as the Calvin Johnson rule. Robinson failed to maintain control of the ball through the process of the catch. The ball was jarred lose when he hit the ground. It's about time this rule went the other way.
The only bad news of the day seemed to be the loss of defensive end Jason Jones. He ruptured his left patella tendon in the second quarter and will miss the remainder of the season. Jones was acquired this offseason to be a starting defensive end but now the Lions will need someone else to rise to the occasion. The Lions will most likely look to sign a replacement end.
Matthew Stafford had a solid day, passing for 385 yards and two touchdowns. Both Calvin Johnson and Nate Burleson were able to get over the 100 yard receiving mark. Undrafted rookie tight end Joseph Fauria caught his second touchdown of the season on his only catch of the game.
Mikel Leshoure didn't see any action for the Lions. The Lions instead went with Theo Riddick as the backup to Joique Bell. Leshoure expressed interest in being trade last week but currently accepts his role on the team. He seems to lack the versatility of the other backs in the system.
The Lions continue action Sunday against the division rival Bears.
About Post Author