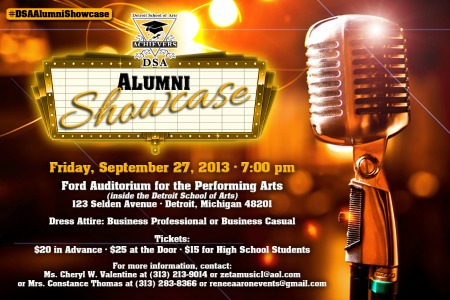 The Detroit School of Arts (DSA) Alumni, in collaboration with the administration have announced a showcase to benefit the students and faculty.
The school recently lost four arts teachers, due to low enrollment. With this news, graduates from the first graduating class of 1996 to present day wanted to show their support. Their mission is to heighten the awareness that DSA is still a catalyst to enrich, cultivate and stimulate the young minds of a budding artist.
The event will take place on Friday, September 27, 2013 from 7:00pm – 9:30pm. It will feature a strolling art gallery and performances by alumni in the Ford Performing Arts Auditorium (Detroit School of Arts), 123 Seldon St. Detroit, MI 48202. General admissions tickets are $25 and $15 for students.
"The teachers and administration are not just educators; they stand as role models that many of today's youth are lacking. The teachers care about the well-being of the students and will push you to reach your fullest potential," says Teyuana Jackson, Class of 2006.