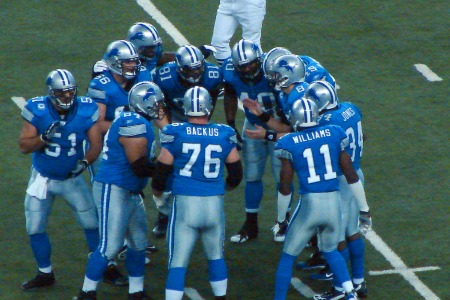 The first team offense may not have scored but Shaun Hill led the Lions to two first quarter touchdowns. The first was an eight yard pass to Patrick Edwards and the second was a six yard pass to Kris Durham. After the first quarter it was all Kellen Moore at quarterback. Matt Stafford threw six times and only completed one. Very little blame should be put on Stafford as there were drops. One drop by Nate Burleson caused an interception. This was another game without Calvin Johnson.
The Bills had a much more depressing situation at quarterback. They started Matt Leinart. The former Heisman Trophy winner only lasted five possessions. He was 3 of 10 for 11 yards and two interceptions. Former Lion Thaddeus Lewis played the majority of the game at quarterback. The Lions traded them Lewis for linebacker Chris White. The Lions Defense was solid again even if it was against a weakened Bills attack. Willie Young put on a strong showing with the only two sacks of the game for the Lions. Rashean Mathis tallied two passes defended to go with an interception. He was also seen at safety.
Bill Bentley also had an interception. Chris Greenwood played in his second game and recorded a tackle. The Lions have some touch decisions to make at corner as they try to cut their roster to 53. The other position where there are some tough cuts to be made is wide receiver. Edwards and Durham both helped their stock with their touchdown receptions. Matt Willis made a spectacular touchdown catch that was later reversed. Corey Fuller has seen little action in the preseason.
The 6th round pick doesn't seem likely to make the active roster. Former Wayne State running back Joique Bell showed his explosiveness on a 23 yard touchdown run. He should end up being the backup to Reggie Bush. Mikel Leshoure lost a fumble in comparison. Theo Riddick also did a lot to help himself, rushing for 26 yards and catching two touchdown passes. Teams have until August 31st to cut down to the 53 man roster.
The Lions start regular season action September 8th at home against the Vikings.
About Post Author