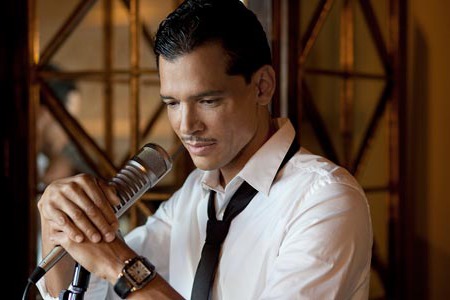 B.B. King had a hit record titled "Never Make a Move Too Soon," and those words are applicable to the talented El DeBarge.
After enjoying major success in the '80s, first with his siblings in the group DeBarge and then as a solo artist, El DeBarge fell prey to drugs, like so many others in his family. They seem to be predisposed to drug addiction.
After completing a 13-month prison sentence, DeBarge re-emerged in 2010 with a well-received album titled "Second Chance." The voice we had heard on great songs like "All This Love" and "Time Will Reveal" was still in great shape.
DeBarge received a huge amount of publicity at this time, including an Ebony magazine cover. It was too much, actually, since no one knew if the recovery would be lasting. But people were so happy for him, and he said he was "born again."
Sadly, in 2011 he relapsed and landed back in rehab.
But Grand Rapids-born DeBarge has returned to performing and those who have seen him say he looks good, sounds great and has a very positive attitude.
We wish him the best.
And by the way, it's kind of hard to believe that El DeBarge, who was 21 when DeBarge had their first hit, is now 52. Time not only "reveals," it also "flies."
MICHELLE OBAMA will go down in history as "The First Lady of Good Health," determined to be a contributing and lasting factor to making America healthier.
You've probably heard about the hip-hop compilation album coming out Sept. 30, connected to Mrs. Obama's "Let's Move" initiative, titled "Songs For A Healthier America." The First Lady herself appears in the video for the album's first single.
Usher says he would like to make a record with Justin Timberlake. That sounds like a pairing that would work.
Donna Summer, though no longer with us in the physical realm, will always be the Queen of Disco. The title is hers exclusively. On Oct. 22 an album featuring remixes of her greatest hits will be released, titled "Love to Love You Donna."
Ordinarily I am opposed to material coming out after an artist has passed, because it is not known whether or not the artist would have wanted that. But in this case it is probably okay since one of those doing the remixing is Georgio Moroder, who co-produced the majority of the Summer's albums.
ONE OF Donna Summer's classics was, of course, "Bad Girls," a song about sex for sale.
Actually, that activity has been the subject of more songs than you might think, including "Midnight Flower" by the Four Tops, featuring the line, "Let me buy the things you do for just one hour."
Among the others are "None of Your Business (Salt-N-Pepa), "Honky Tonk Women" (the Rolling Stones), "(Olivia) Lost and Turned Out" (the Whispers), "Family Man" (Daryl Hall & John Oates), "Fancy" (Bobbie Gentry) and, of course, "Lady Marmalade" by the trio Labelle.
"Voulez-vous coucher avec moi?" is French for "Would you like to sleep with me tonight?" Patti LaBelle says she didn't know that until many years later. But it's hard to believe that she could sing those lyrics, first in the studio and then on stage so many times, and not have thought to ask what the words meant.
People are surprised to learn that comedian Kevin Hart is only 5'4".
You can always count on Prince to do something unexpected and very different from anything anyone else is doing. First he introduced us to his band called the Revolution and that was followed by the New Power Generation. Now he is working with a new, all-female band oddly called 3rd Eye Girl.
BETCHA DIDN'T KNOW…that in early 1964, when he was a sports and media sensation as Cassius Clay, the legendary Muhammad Ali was on the national charts for two weeks with his version of Ben E. King's "Stand By Me."
MEMORIES: "Everlasting Love" (Carl Carlton), "When Will I See You Again?" (the Three Degrees), "Don't Let Go" (Isaac Hayes), "Rainy Night in Georgia" (Brook Benton), "That's the Way I Feel About Cha" (Bobby Womack), "Every Little Bit" (Millie Scott), "Heaven Help Us All" (Stevie Wonder), "If You Want Me to Stay" (Sly & the Family Stone), "My Baby" (the Temptations), "Stop Your Weeping" (the Dramatics).
BLESSINGS to James Alexander, Montez Miller, David Watkins, Verna Green, Vickie Thomas, Nat Morris, Pam Williams, Karen Love, Rick Keating, Trina Naylor and Marvin Taylor,
WORDS OF THE WEEK, from Gayle King: "We all spend way too much time and energy trying to fight things we can't change."
Let the music play!
Steve Holsey can be reached at Svh517@aol.com and PO Box 02843, Detroit, MI 48202.
About Post Author