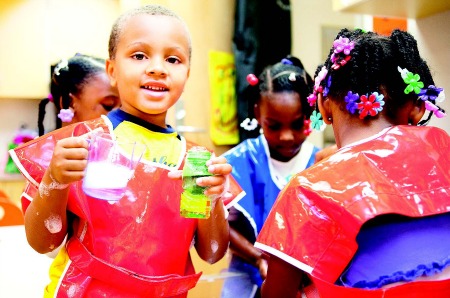 Intense behind-the-scenes efforts designed to transform the typical back to school experience from ordinary to extraordinary have been underway for months at Detroit Public Schools.
DPS administrators hope that parents will like what they see as they open the doors to an ambitious month long series of Open Doors events at area schools this month.
Stakeholders, impressed with the improvements, hope to see additional progress as DPS students begin to hit the books this school year.
The system is more "customer-focused" than ever before, according to DPS officials. For area parents, that translates to better communication, additional support and enhanced technology and teaching tools in area classrooms, in addition to intensified efforts to maintain student safety and well-being not only on school properties, but school routes.
DPS announced a broad expansion of its Citizen Patrol programs to vastly expand Safe Routes for Detroit children and their families going to and from school this fall, enlisting hundreds of volunteers to patrol 14 key geographic school areas beginning with the first day of school.
"The safety of our students and staff, not only while in school, but on their way to school, is a top priority for Detroit Public Schools," said DPS Emergency Manager Jack Martin. "We have worked diligently over the last few years to reduce crime in and around our schools. However, we recognize that we cannot do this on our own. The more support and engagement we have from the community, the safer we will be able to make our schools and the more likely parents will be to enroll their children in our 97 neighborhood-centered, quality schools throughout the city."
DPS also planned announcements in August for other major initiatives as part of the district's 5-year Strategic Plan, including new parenting programs, such as a Parent University; a new Customer Service initiative; a broad expansion of arts and music offerings so every elementary and middle school students will have access to quality programs; new Career Academies, where students can earn an associate's degree while attending high school, as well as participate in internships and apprenticeships; and a new Community Schools model. Under that model, buildings will soon serve as "12/7 Community Schools," to better serve the needs of families district-wide.
A SMART START
DPS is making a major investment in early Childhood development with the planned expansion of Pre-Kindergarten to all eligible 4-year-olds, which help children learn to read before 3rd grade.
"We know that students who can read by 3rd grade will stay engaged in school and graduate at much higher rates," said Karen Ridgeway, Superintendent of Academics for Detroit Public Schools.
A SUCCESSFUL
FUTURE
The profound changes well underway and renewed commitment of DPS is hoped to better support area families, improve student performance and an ample supply of qualified candidates for high-growth jobs destined to drive the city's economic rebirth, according to a DPS spokesperson.
See also: Detroit Schools on Upward Trajectory
FAITH IN EDUCATION
DPS leaders will take their message to the pulpits of churches across Detroit Sundays through mid-September, showcasing new initiatives and a renewed spirit about restoring faith in education in Detroit.
CHANGE IS AHEAD
Change is ahead, and throughout August area parents are invited to bear witness to ongoing efforts to improve DPS.
TIMELINE
Aug. 3 ARISE Detroit! Neighborhoods Day Hundreds of volunteers paint, clean and beautify school grounds and map out safe school routes.
Aug. 9 Safe Route program expansion is announced, enlisting the support of hundreds of volunteers dedicated to maintaining safety along 14 dedicated safe routes throughout the school year.
Aug. 20 – 11 a.m. The Ribbon Cutting Ceremony at Diann Banks-Williamson (Special) Education Center will deliver new resources and support for students (grades 9 – 12) on the campus of East English Village Preparatory Academy.
Aug. 21 – 23 The 1st Annual Back To School Teaching and Learning Symposium at the Marriott Renaissance, which is being held for DPS instructional staff, will ensure that teachers return to class with advanced skills, enhanced cross-curricular strategies and tools to increase parental involvement. Renowned poet, educator and author Dr. Maya Angelou will address teachers on Aug. 22, extoling the virtues and rewards of teaching, as well as the importance of continuous instruction.
Aug. 23 A Multicultural Food Fest is on the menu, as parents and the community are invited to enjoy foods, sights and sounds reflecting the many cultures of DPS students at Clemente, Detroit International Academy, Priest and Marcus Garvey Academy from 10 a.m. to 1 p.m.
Families will also have the opportunity to examine DPS offerings for English Language Learners including laptops for bilingual class rooms, listening stations (cd players with headsets and story books) and mutli-language storybooks and picture dictionaries, which reflect Sheltered Instruction Observation Protocols (SIOP).
Aug. 24 – 10 a.m. – ­
2 p.m. DPS' Open Doors Day promises to be a show-stopping series of activities and events at nearly every school across DPS (see sidebar), including 11 of the 12 DPS schools ranked in the top 20 by Excellent Schools Detroit: Thirkell, Davison, Garvey, Burton International, Chrysler, Bates Academy, Vernor, Maybury, Pasteur, Charles Wright and Clippert.
Some Highlights of
the Day:
Golightly Education (PreK – 8) Center Principal Dr. Sherrell Hobbs will showcase Golightly's new Early Learning Neighborhood Center for Pre-kindergarten students at 5536 St. Antoine, Midtown Detroit
Osborn Collegiate Academy of Mathematics, Science and Technology (MST) Registrants will receive a free eye exam and glasses, if prescribed, within the first two weeks of school. They will also be scheduled for a free dental exam, cleaning and prescribed dental services during that same timeframe. A free MST school uniform shirt distribution and gift card raffle is also scheduled.
Visitors can also see Engineering and Science and parent resources demonstrations and access DHS, Detroit Parent Network and area employers at the event.
Aug. 28 Free Books will be available thanks to the generous donation of major DPS corporate sponsors at DPS' 8 Parent Resource Centers, which will be open to showcase their services.
Aug. 30 The NAACP Back to School / Stay in School Day, co-hosted by DPS at the North End at Delores Bennett Park from 10 a.m. – 2 p.m. will include free back-to-school supplies provided by the NAACP Youth Council, DPN, Delores Bennett Park Community, Radio One, Black Family and Vanguard Community Development organizations.