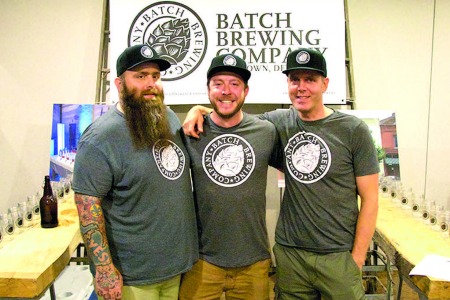 Winner to be announced at Hatch Off event on Aug. 29
Batch Brewing Company
In its third year, the Comerica Hatch Detroit Contest doesn't seem to be slowing down. The competition calls on Detroit's best and brightest entrepreneurs for their take on what the city's next best retail destination should be. This year's competitors have raised the bar with the quality and presentation of their business proposals, from barber shops and beauty products to beer, bras and bakery treats.
"We've received nearly 200 applications, from recent college grads to experienced entrepreneurs, all with a passion for reinvigorating Detroit's urban retail environment," said Nick Gorga, co-founder of Hatch Detroit. "The entries this year have exceeded our expectations, and I can honestly say the quality was unmatched in previous years."
The 2013 Contest
The 2013 contest again boasts a $50,000 grand prize provided by Comerica Bank. In addition to the cash prize, the winner also receives a package of services including legal, marketing, accounting and IT support from Hatch Detroit and its partners.
Comerica Bank and Hatch Detroit put out a call-for-entries in May and received nearly 200 applications by the mid-July submission deadline.
"Now more than ever, it's clear that entrepreneurs and small businesses are the lifeblood of Detroit," said Michael Cope, senior vice president of Business Banking at Comerica Bank–Michigan. "As a bank founded in Detroit, we are especially proud to be a part of this competition, offering support from the ground-up."
For the hopefuls, the challenge was developing a retail concept that would resonate with the Detroit community. For the judges, consisting of Hatch board members and advisors, the challenge was narrowing down the field to the top 10 semi-finalists. The semi-finalists then spent a week campaigning for public votes to make it into the top four, which is where the competition stands.
The Top Four
Batch Brewing Company aims to become Detroit's first nano-brewing company, adding their own beer to Detroit's ranks while seeking to help other small breweries develop their brand through their "Brewery Incubator" program.
Corktown Cinema is the reincarnation of the Burton Theater: an eclectic independent cinema that will feature arthouse, independent, LGBT, foreign, second-run mainstream, local and cult films and aims to help Detroit be a center for independent film.
HenriettaHaus Coffee Roasters is a coffee roaster and cafe looking to open in Hamtramck. Their menu will include homemade favorites that people drive miles to purchase at their pop-up location in Ferndale's Rust Belt Market
Spielhaus Toys will be an independent specialty toy store serving the families of Detroit and its visitors. Fond memories of Hudson's children's store fuel the shop's vision, which aims to bring similar happy experiences to Detroit children.
The Final Round
A final round of public voting runs through Wednesday, Aug. 28 at 6 p.m. at www.hatchdetroit.com. The winner will be announced at the Hatch Off on Thursday, Aug. 29 where the final four will present their business pitch one last time to a panel of judges at the
M@dison Building in Detroit. The $50,000 grand prize will be awarded based on public votes and votes from Hatch Detroit's panel of judges.
"The Hatch Off is an opportunity for our entrepreneurs to show off the months of planning and development and truly put their hearts on the table as they make that final pitch to our judges," said Gorga.
Don't forget to cast your vote before Aug. 28 at www.hatchdetroit.com.