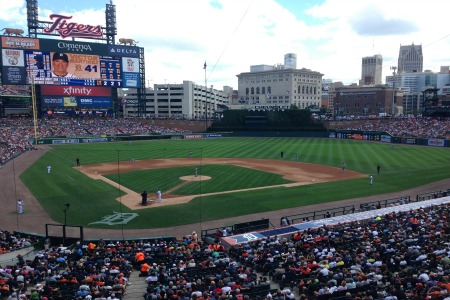 It may not have been the best lineup yesterday, but it did the job. The Tigers won in the 12th inning on a RBI single by Tori Hunter in his second at bat of the game. Thankfully, he was able to get the job done before Don Kelly came up again in Miguel Cabrera's spot.
The 3-2 victory was the 8th straight sellout at home for the Tigers and the highest combined attendance for a three game series of the season. The Tigers have also won their last 12 of 13. However, the Cleveland Indians have kept pace winning their last 10 of their last 11. The AL Central is currently one of the hottest divisions in baseball.
Even when injured, Miguel Cabrera is still one of the most dangerous players in the MLB. Having him able to pinch hit in the 12th didn't even seem fair. He lined a single up the middle and quickly exited for pinch runner Matt Tuiasosopo. He just makes it look easy.
Bruce Rondon was able to get his first career win after pitching two scoreless innings. He looked sharp touching 100 MPH on a couple occasions. It is good to see that of the 23 pitches he threw, 19 were strikes. If he has that kind of control there is no question that he can be effective.
If you didn't see that game you may want to watch the highlights for some of the plays that Jose Iglesias made at third base. He looked phenomenal yesterday, making some outstanding diving plays. This kid is going to be special.
After the game, Tigers GM Dave Dombrowski announced the purchase of Jeremy Bonderman's contract from the Toledo Mudhens. Bonderman, 31, had pitched in 7 relief appearance for the Mudhens and allowed no runs. Those appearances combined for 9 and 2/3 innings with 3 hits, no walks and 5 strikeouts.
About Post Author