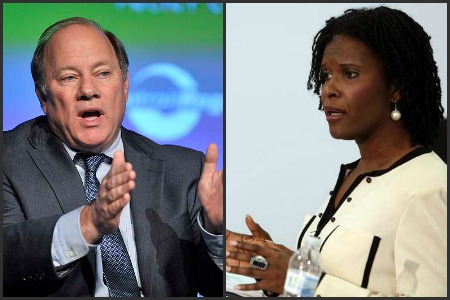 Detroit mayoral candidate, Lisa Howze, has agreed to debate Mike Duggan Monday evening at Union Grace Conference Center located 2550 W. Grand Blvd. at 7pm. The debate entitled, "Restore Detroit: Pre-Primary Mayoral Debate" is sponsored by The Urban Progressive Fund. The debate will last approximately 60 minutes. Rev. Angelo Henderson of WCHB AM 1200 will moderate the discussion.
"With the election being just over 48 hours away, voters need to be able to clearly decide which candidate is best able to lead Detroit and restore financial stability, broken neighborhoods and hope to the residents of the City of Detroit. For months, Mike Duggan has touted having a plan to get rid of Detroit's Emergency Manager who he helped bring to the city. The emails that came from Gov. Snyder's team proves this," says Howze.
"When it comes to the issues," Howze says, "I'm the only candidate that has discussed a jobs plan for the city of Detroit and shared specifically how to address the city's financial challenges. The way we expand our tax base and fix the finances of the city, we have to put people back to work because the city can't get better until life gets better for the people who live here. In fact, it is this message that resonates with some Detroiters who have actually converted from Duggan supporters to now becoming Howze supporters. For this reason, I feel Detroiters need one more opportunity to decide who is best suited to serve them as Mayor. And, I hope Mr. Duggan does not give an excuse to avoid me in this debate as he has in the last three debates," concludes Howze.
About Post Author