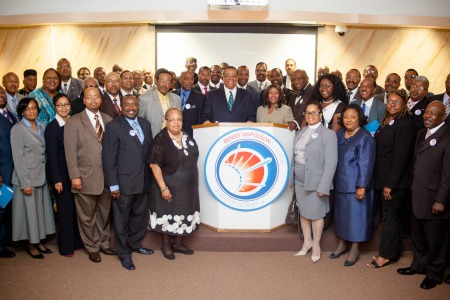 DETROIT — The UAW will hold a news conference on Friday to announce its support for Detroit mayoral candidate Benny Napoleon.
"Benny Napoleon has stood with working people time after time," said UAW President Bob King. "He has stood up for workers and fought for their right to collective bargaining. We need a mayor in Detroit who cares about the working and retired people in this city, especially as Detroit goes through restructuring. Benny has longstanding relationships with all sectors of the Detroit community, including elected, community, business, religious and labor leaders, and he will use those relationships to bring constituents together to find fair solutions to Detroit problems. Benny understands that the hardworking people of Detroit can't be sacrificed to please Detroit's debt holders," King added.
Napoleon, the "Businessman with a Badge," has been the CEO of the largest professional service organization in city government — the Detroit Police Department. As chief, he identified and appointed the best and brightest leadership team and quickly restructured the embattled department. Benny managed a $450 million budget with more than 4,000 employees. And amid constant budget cuts, he was able execute his restructuring plan aimed at reducing homicides and violent crimes in Detroit at a time when these incidents appeared to be spiraling out of control. His success was measured by a more than 30 percent reduction in homicides and violent crimes in nearly three years.
About Post Author