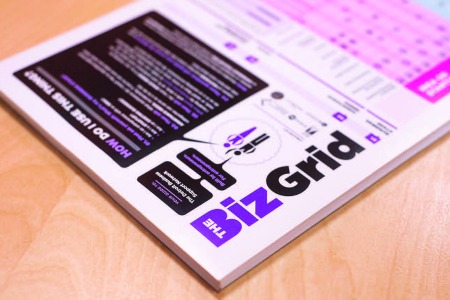 The Detroit Business Support Network has announced the launch of the BizGrid, an infographic designed to help Detroit entrepreneurs navigate the landscape of organizations providing business assistance within the city. The BizGrid can be found at www.detroitbizgrid.com.
The BizGrid features 54 organizations offering services ranging from business planning and strategy to real estate assistance, funding, co-working space and more. Its crisp, simple design enables an entrepreneur to find names and contact information for assistance organizations based on the entrepreneur's business stage and needs.
A committee of the Detroit Business Support Network consisting of Bizdom, D:hive, the Detroit Economic Growth Corporation, InsYght, and TechTown directed the BizGrid's design, content development and production with the support of the New Economy Initiative of Southeast Michigan. The committee drew on its members' day-to-day interface with entrepreneurs and invited input from business owners who represent the BizGrid's target user base.

"Entrepreneurs need to know there is a growing network of support for them, and have ways to access that network," said David Egner, executive director, New Economy Initiative. "When you see the BizGrid, you begin to recognize not only the support that is available, but that this is a resource users can come back to over and over as their business grows."
The BizGrid will evolve as the Detroit entrepreneurial ecosystem shifts and new services come to market. Print copies of the inaugural edition are available free of charge at D:hive, TechTown and other organizations across the city of Detroit.
About the Detroit Business Support Network
The Detroit Business Support Network is a network convened by the Detroit Economic Growth Corporation, consisting of over 40 organizations across the city of Detroit. The Network is working to deliver efficient and effective business services to create a business-friendly environment for both start-up and existing businesses. This collaborative effort is designed to create vibrant commercial districts, a strong downtown and growth in competitive business clusters.