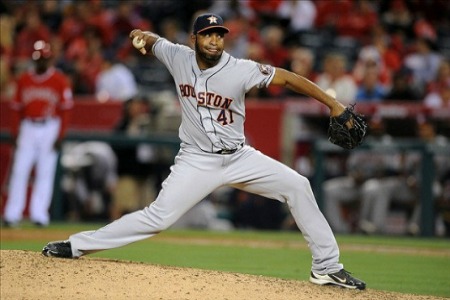 The Detroit Tigers today announced the club has acquired righthanded pitcher Jose Veras from the Houston Astros in exchange for outfielder Danry Vasquez and a player to be named later on or before September 15, 2013.
"We are pleased to add an experienced arm to our bullpen," said David Dombrowski, Tigers' President, CEO, and General Manager "Jose can pitch in a variety of roles, provides depth in the bullpen, and complements the roles of Joaquin Benoit and Drew Smyly."
Veras, 32, has compiled an 0-4 record, 2.93 ERA (43.0IP/14ER) and 44 strikeouts in 42 relief outings with the Astros this season. Opponents are hitting .192 (29×151) against him this season, while he has issued 14 walks. He has posted a 0.00 ERA (8.0IP/0ER) and six strikeouts over his seven outings during the month of July.
Originally signed by Tampa Bay as a non-drafted free agent on January 19, 1998, Veras has seen action at the major league level with the Yankees (2006-09), Indians (2009), Marlins (2010), Pirates (2011), Brewers (2012) and Astros (2013). In parts of eight seasons at the major league level (2006-13), Veras has compiled a 19-21 record, 3.88 ERA (357.1IP/154ER) and 372 strikeouts. The 6-6, 242 lbs. right-hander is a native of Santo Domingo in the Dominican Republic.
Vasquez hit .281 (105×374) with 16 doubles, five triples, five home runs and 39 RBI in 96 games with Single A West Michigan.