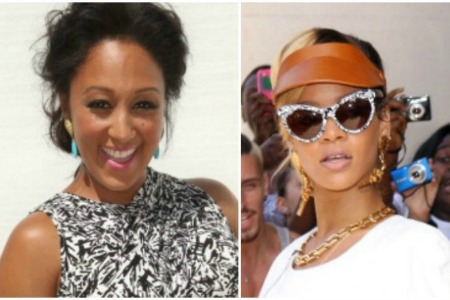 Tamera Mowry found herself engulfed in controversy when an interview she did with CocoaFab, was allegedly misconstrued.
"Like my grandmother always said, 'dare to be different'. While it's popular these days to be the Rihanna to his Chris (okay, sans the abuse fiasco), consider being different from all of the overly sexy, turnt up girls. Guys want someone who stands out from the crowd. Remember, there's a HUGE difference between wifey and wife! Don't get it twisted."
Is what the site reported, but Tamera asserted on twitter that she never mentioned Rihanna's name and loves the "Diamonds" singer. Tamera, who lost her virginity at age 29, was giving her insight on marriage and advised that women be more reserved.
To cause a controversy @mycocoafab that doesn't exist is NOT cool. I'm I absolutely love @rihanna!—
Tamera Mowry-Housley (@TameraMowryTwo) July 24, 2013
Please don't make up situations at my expense @mycocoafab to try to stay relevant. Please don't put words in my mouth. Not cool!—
Tamera Mowry-Housley (@TameraMowryTwo) July 24, 2013
Read full interview here