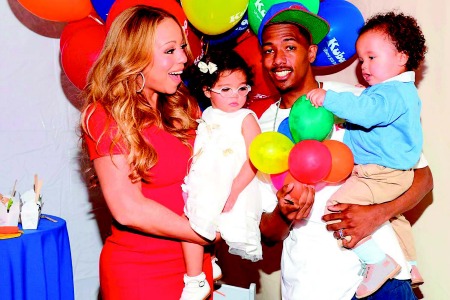 Nick Cannon's middle name is Scott, but based on his talent and the diversity of his achievements, it would be appropriate for it to be "Versatility."
Actor, television host, rapper, comedian, radio host and maybe he has skills in areas the public doesn't know about yet.
Cannon is one of those people who seemed destined to make it in show business. Most likely, he didn't think much, if at all, about pursuing a career in any other field.
And then there was the question of making it ("or not," for some people), but that is a matter of being "singularly focused."
Perhaps megastar/icon Diana Ross said it best. She stated that failure never crossed her mind as a child. She was going to be a success in show business as a singer — and that was that.
Nick Cannon can relate.
"YOU HAVE to be vigorous," he said. "That's the only way you are going to make it. Everybody has dreams and everybody has goals, but the only people who achieve them are the ones who go after them and don't take no for an answer."
There is also a huge amount to be said for being in the right location.
"If you want to be in the automotive business, you go to Detroit, and you figure it out," Cannon said. "And if you want to be in entertainment, go to where it's at. Go to Hollywood. Go to New York."
And he vividly recalled, "I was 16 years old, driving to LA (from San Diego) and sleeping in my car, just trying to make it happen."
Nicholas Cannon had started rapping at the age of 8, but got his first break as a stand-up comedian when he was 11. His father, James Cannon, a motivational televangelist, had a cable access program and was able to get his eager son on it.
His next break involved Nickelodeon, the basic cable and satellite TV network whose target audience is pre-teens and teens. The network's studio audiences needed to be "warmed up" before its shows began, and Cannon was hired.
THINGS MOVED along nicely from that point, and Cannon was enjoying the building momentum.
From 2005 to 2007, he hosted as well as performed on an MTV sketch comedy program titled "Wild 'N Out."
He taped his own stand-up comedy special in 2011, recorded live in Palms Springs, titled "Mr. Showbiz." An ambitious title, for sure, but it reflected the focus of how he wanted to display his talents and the level of success he intended to reach.
"Wild N' Out" was revived in late 2012 by MTV2. He also made comedy recordings, such as "Nick Cannon" and "Stages."
However, Cannon reached a whole new audience — including people, generally older, who may not have been familiar with his previous work — when he began hosting the hugely popular talent search program "America's Got Talent," in its fourth season, that airs on NBC.
The show was created, in a sense, to give "American Idol" a run for its money, but "America's Got Talent" also had to compete with another newcomer, "The X Factor."
NICK CANNON proved to be a polished, amiable and likable host, so much so that he was retained as host for the fifth, sixth, seventh and eighth seasons.
His films include "Drumline," "Men in Black II," "Garfield: The Movie," "Love Don't Cost," "Underclassmen" and "Shall We Dance?"
He won an NAACP Image Award in 2012 in the Outstanding Supporting Actor category for his work in the comedy TV series "Up All Night," in a recurring role.
It was major news when, on April 30, 2008, Cannon was married to superstar songstress Mariah Carey, who is eight and a half years older than he. They had only been dating for six weeks and there had been no announcement.
In the spring of 2011, Carey and Cannon became the parents of fraternal twins, a boy, Moroccan, and a girl, Monroe.
THE FOLLOWING year, Cannon had a series of health challenges, including blood clots in his lungs, mild kidney failure and a disease called lupus nephritis, the reason for his kidney issues.
Far less serious, but also worth noting, is a feud Cannon had with Eminem who had dated Mariah Carey before she knew Cannon. The Eninem/Carey break-up was not pleasant.
More recently, Cannon clashed on national televison with comedian Kevin Hart, prompted by a negative joke Hart had made about Carey.
Hopefully, all parties involved will be able to eventually rise above the conflict, which is not important in the greater scheme of things.
It would not be illogical to assume that greater things are yet to come from Nick Cannon. — Steve Holsey contributed to this story.