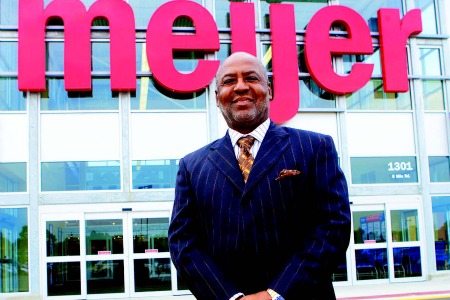 MARVIN BEATTY, Detroit developer and civic leader, discusses Meijer opening its first store in Detroit and why it is crucial for African-American developers to be engaged in the economic revitalization of the city. – Andre Smith photo
Of late, there have been countless news stories emanating from Detroit that have focused on the city's bankruptcy and other municipal woes. However, all news stories about the city are not doom and gloom. On Thursday, July 25, Meijer made great news by cutting the ribbon on its first Detroit store, much to the delight of Detroiters, who for decades, have been shut out of national retail shopping within the city limits.
Located on Eight Mile Rd. and Woodward Ave. on the city's north edge, the new 215,000 square-foot-store will anchor a massive shopping center called Gateway Marketplace.
The 350,000 square-foot shopping complex will also feature a K&G Fashion Superstore, Marshalls, Petco, and has commitments of occupancy from other national outlets, inclusive of PNC Bank, Dots, Five Below, SVS Optical, Payless ShoeSource, Wingstop, Subway, and more.
While there are plenty of smiling faces connected to the historic grand opening of Meijer in Detroit, perhaps the biggest smile belongs to businessman Marvin W. Beatty, who gave leadership to the developers of the Meijer project.
Beatty's partners, under the auspices of Gateway Partners, include Ricardo Solomon, Elliott Hall and Bernie Schrott.
"This represents the first opportunity in many years for Detroiters to get not just one national retailer, but many retailers," said Beatty. "The opportunity to witness the grand opening is exciting as we stuck to our plan, with no disrespect to local retailers, to go after much needed national retailers and convince them to come to Detroit."
Beatty said that Gateway Marketplace, when totally occupied, will generate approximately 900 jobs, with Meijer hiring around 500 employees.
"During this difficult economic time, that's huge," Beatty said. "To Meijer's credit, they have taken a very aggressive position to make sure that Detroiters get most of the jobs. Many of the other outlets in the complex, and the ones coming, are looking to do the same. It's extremely important that jobs for Detroiters become a big part of the success story of Gateway Marketplace."
Beatty, a Detroit native, is also part of another development and investment group called Magic Plus. Beatty, former Los Angeles Laker superstar-turned-super-entrepreneur Earvin "Magic" Johnson, and developer Joel Ferguson are currently looking to develop the old State Fair complex that is physically connected to the new Gateway Marketplace.
"We are in the process of finishing up negotiation with the state of Michigan to develop that 160-acre-site," Beatty said.
"Once we are successful in the negotiations with the state, we intend to develop the land and bring national retail stores, office space, entertainment establishments, restaurants, housing, green space and a lot more, which will really give a whole revitalization to that entire area."
Beatty is accustomed to gravitating to successful business ventures. He was one of the original owners of Greektown Casino. He now serves as the entity's vice president of community & public relations.
"I think the big part of the legacy that I may have in this community is having been a part of creating a considerable amount of jobs for people in a brand new industry (gaming) in this city," Beatty said.
"From the very inception of Greektown, going back to 1996 when a ballot initiative was passed, I've been a part of it."
While Beatty could live in any high-scale community in the United States, he loves Detroit.
"I can't say that I love the city and live somewhere else, although some other people do just that," said Beatty, who also spent more than two decades as a Detroit firefighter, and ultimately was appointed to serve as deputy fire commissioner by Mayor Coleman A. Young.
"Detroit has its issues and has a high-level of stress, but I truly love living here."