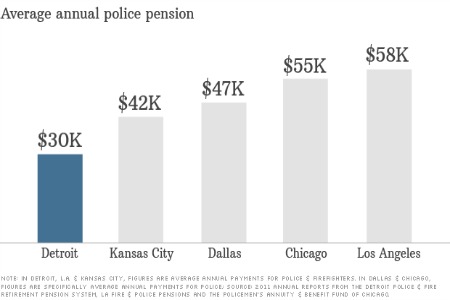 Bankruptcy or not, Detroit's emergency manager, Kevyn Orr, says the city simply can't afford the pensions it has promised tens of thousands of retired and current city workers, many of whom are counting on the checks to make ends meet.
So how much money do Detroit's retirees actually get?
On average Detroit's firefighters, police officers and other city employees receive pension checks that are similar or slightly smaller in size than the national average of $30,000 a year, according to pension experts. But compared with larger cities that have higher living costs, like Chicago and Los Angeles, Detroit's pensions checks often pale in comparison.
"My basic takeaway was that [Detroit's] pension system itself was not overly generous," said Jean-Pierre Aubry, assistant director of State and Local Research at Boston College's Center for Retirement Research.
Related: Retired Detroit firefighter: "My pension is what I was promised"
While workers who reach the city's top posts, like police or fire chief for example, can retire with annual pensions that reach into the six-figures, the vast majority receive much smaller payments, Aubry said.