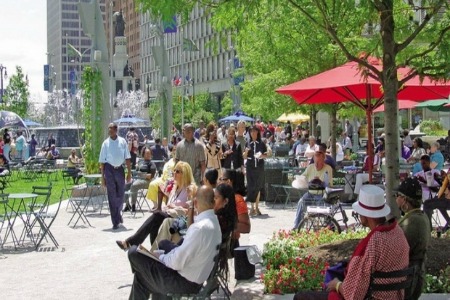 This month's headliner for 4th Fridays in the Park, presented by Compuware, will be award-winning Canadian rockers Thousand Foot Krutch.
Thousand Foot Krutch has received international recognition as a secular rock band and as a Christian rock band since its inception in 1995. They have released eight albums, the most recent being The End is Where We Begin. The band has sold more than half a million albums since October 2007, and have been nominated for several awards, including five Juno Awards.
Opening the show will be the four-piece Ann Arbor rock group,Taproot
Fourth Fridays in the Park takes place at Campus Martius Park (CMP) on the fourth Fridays and Saturdays of the month throughout the summer. It is part of the Summer in the Park series, presented by Compuware. The Summer in the Park series includes activities, shopping and entertainment for free throughout the summer in Campus Martius Park/Cadillac Square, Capital Park, Grand Circus Park, and Paradise Valley Beatrice Buck Park.