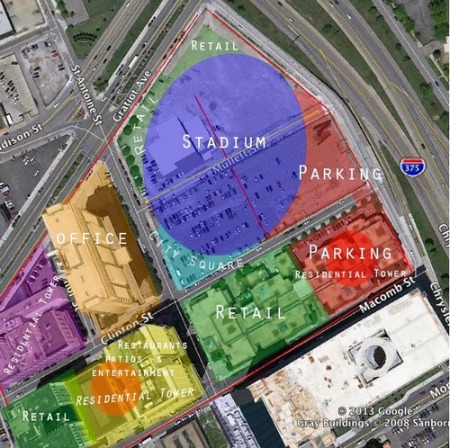 Dan Gilbert's company Rock Ventures, LLC plans offer to purchase the site of a stalled Wayne County Jail construction project at Gratiot and Madison in downtown Detroit today, according to the Detroit News.
Rock Ventures LLC is one of the 75 companies affiliated with Quicken Loans founder Dan Gilbert who, with these firms, now owns 7.5 million square feet of downtown Detroit real estate.
Matt Cullen, president of Rock Ventures, told The News that "the clarity around the offer will take a little bit of time working with the county." Cullen added that Rock Ventures sees the site eventually becoming mixed-use retail, entertainment, residential and commercial development.
Rock Ventures' offer is in response to a request for proposals by the county, the partially completed site projected costs have ballooned to about $65 to $100 million over budget.
RFPs for the site are due this afternoon, but the county had not received any others at the close of business on Wednesday, The News reports.