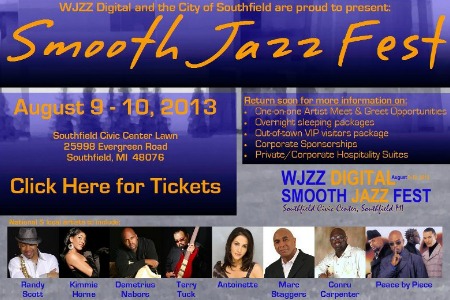 The WJZZ Digital MotorCity Jazz Radio Smooth Jazz Fest scheduled for August 9-10 in the city of Southfield will be postponed until the June 27-29 (tentative date) due to a lack of secured sponsors at this time.
The city of Southfield and WJZZ Digital determined that postponing the Jazz Fest until 2014 would allow WJZZ more time to secure corporate sponsors – many of which have already indicated support for next year. The proposed 2014 Smooth Jazz Fest will now potentially be a three day event instead of just two, making for a larger event featuring more nationally-known artists.
Automatic full ticket refunds will begin on Monday, July 15 and should be completed by Friday, July 19. If a refund is not received by July 19, call WJZZ at (248) 461-3483 or e-mail tickets@mcmsradio.com.